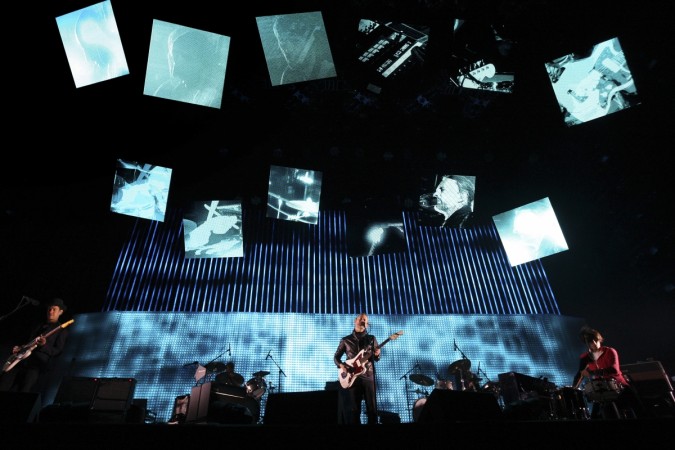 IBTimes Rating: 4.5
One of the most refreshing things about British experimental rock band Radiohead is that they seem to be on a constant musical journey. The band's three-decade career, combined with the fact that each of their previous eight albums sounds starkly different from any other, is proof of this fact.
"A Moon Shaped Pool," the band's recently released ninth studio album, is nothing short of a hallmark in their immensely experimental music catalogue. The whole record feels like a dreamy lullaby. It is meditative, ethereal, contemplative and immersive. It can take you through euphoric daydreams as well as sinister nightmares during its course of 52 minutes and 31 seconds.
Starting with the sinister pizzicato string arrangement-oriented mid-tempo "Burn The Witch," the album moves on to the lush piano-based "Daydreaming." I got to listen to these tracks last week when the band released them ahead of the album, but little did I know back then what their significance to the whole album was.
These two tracks set the mood for the album and lead on to its actual depth that comes in the form of songs such as "Desert Island Disk," "Ful Stop" and "Tinker Tailor Soldier Sailor Rich Man Poor Man Beggar Man Thief." "Desert Island Disk" especially makes a statement through lush-yet-nimble guitar work and hints of electronic. So does "Ful Stop," with its anthemic approach towards songwriting.
Although the album is generally cinematic in nature, Radiohead returned to an intro-verse-chorus-outro structure in terms of songwriting, with "A Moon Shaped Pool." This 11-track record also has vocalist Thom Yorke singing in a way that the lyrics are recognisable, a feat that was not seen in most tracks in their previous release, "King of Limbs." Even the words that Yorke sings in "Identikit" could be heard clearly through its booming and spacey vocal harmonies. Jonny Greenwood's mastery over texture-based songwriting is also quite evident in this album.
Lyrically, the album gets as gloomy as a Radiohead record can. Although the basic theme of "A Moon Shaped Pool" might seem like an unending puzzle at first, an in-depth listening can reveal Yorke's fascination of a dystopian society in which there is darkness, despair and chaos everywhere.
"Desert Island Disk," "Ful Stop," "Identikit," "Present Tense" and "True Love Waits" were the highlights of the album for me.
Overall, I can say that no song in this album will seem overwritten or over-played. In fact, the record can take you through an intense aural trip and may keep you pondering about the current state of the world, and life in general, hours after you stop listen to it.
Buy the album here.