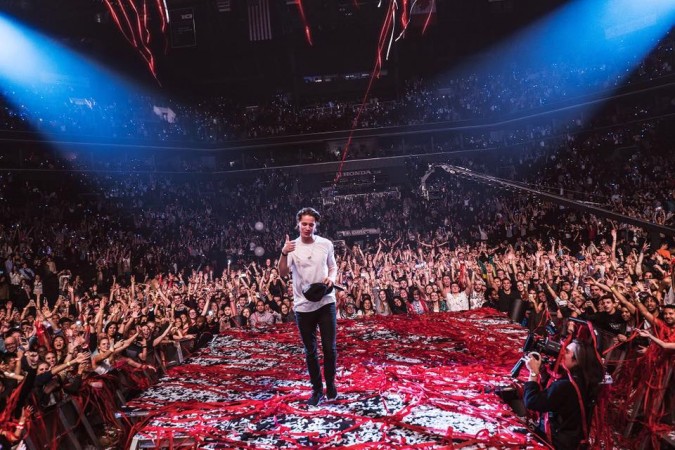 IBTimes rating: 3
Norwegian DJ and music producer Kygo has been grabbing eyeballs with his energetic live shows and releasing original music since 2013. But it is only now that the DJ, widely considered one of the pioneers of tropical house music, has come up with a consolidated release.
After dropping singles throughout 2015 and the beginning of this year, Kygo recently released his debut record "Cloud Nine," a 15-track album that contains seven previously released singles.
Before I go into a detailed account of what the album is like, let us first get to know what tropical house music actually is. It is a subgenre of house music that takes its characteristics from deep house and dancehall. While deep house may have a dark vibe sometimes, tropical house is generally euphoric, relaxing and downtempo. It also features tropical instruments (acoustic or virtual) such as the marimba, pan flute and steel drums, apart from the usual synth patterns and sounds found in every subgenre of house music.
"Cloud Nine" is an album that borders around the tropical house/deep house space. With mellow piano hooks, lush synth layers, catchy percussion rhythms, ambient atmospheric sounds and a dancey vibe, the record is definitely euphoric but fails to portray the depth expected for an album of this stature. The reasons for this are its lyrics and the fact that the songs are based on the tried and tested formula of house music in general.
Most of the songs contain dramatic piano preludes and interludes, dreamy synth layers and mid-tempo to downtempo beat structures; in short, the recipe for a typical house music album. Although Kygo tries to tell a sombre story with the album's lyrics, they fall short of expectation as they sound quite juvenile and superficial.
Every track of this album features a vocal collaboration and that is, perhaps, the only redeeming factor apart from the soothing sound. The vocals on "Raging" featuring Kodaline, "Firestone" featuring Conrad Sewell, "Happy Birthday" featuring John Legend and "Not Alone" featuring Rhodes truly steal the show.
"Cloud Nine" also features collaborations from Angus & Julia Stone, Julia Michaels, Parson James, Tom Odell, James Vincent McMorrow, Matt Corby, Labrinth, Maty Noyes and Will Heard.
Overall, "Cloud Nine" is technically sound and makes for a good listen because of its plush sound, but what it truly lacks is experimentation and improvisation.
Buy and download the album here.