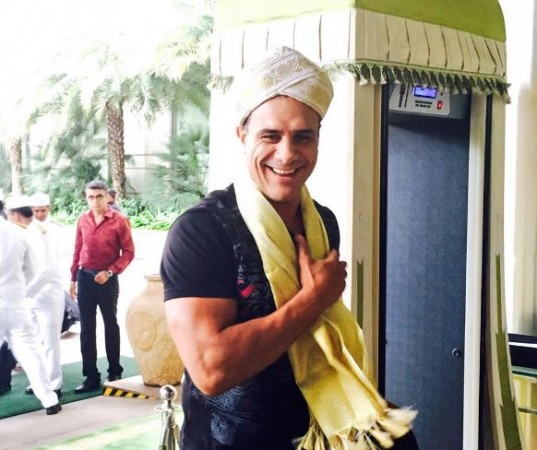 Alberto del Rio's, four-time World Heavyweight Champion and WWE superstar, recent India visit to promote WWE saw him open up about his transition from amateur wrestling to the WWE stage. The 39-year-old Mexican revealed that he used to play the classic Atari game console and many more.
In an exclusive interview with International Business Times India on July 9 in Bengaluru, he spoke about his transition from an amateur wrestler to the professional wrestling field.
"Well, I started amateur wrestling because I wanted to be a pro wrestler, it was my main goal and my dad took me to an amateur wrestling gym because, I think ,he was getting me ready for what the future was going to bring to my life. It's been an amazing journey and I had an amazing time when I was in the Mexican national team and now years after [you can see that] I am the most successful professional wrestlers out there. All I can say that I been blessed in my life and career," he explained
Del Rio was part of "WWE 2K14" and "WWE 2K15," but was not part of "WWE 2K16." When asked about his experiences as a playable character in the game, he said that it was pretty cool to be part of it.
"It is pretty cool to see yourself in the video game, I am not a video gamer or anything but it is pretty cool to see my son play my character. It is a long process when they [WWE] decide to put you in the video game. It is pretty cool to see the final result," he told IBTimes India.
Del Rio revealed that his six-year-old son likes to play as his father and many others and thinks that his daddy is the "most powerful man in the world."
When asked to react on the upcoming "WWE 2K17," he revealed that he is not an avid video gamer, nevertheless, he makes sure that he plays if asked by his son.
"To be honest, I would be lying if I tell you something about the video game, because I do not know anything about them. I do not play. The only time I play is when my son wants to play with me and I do it to make him happy," del Rio revealed.
"There was a time in my life when I used to play video games but that was like 100 years old when we had Atari systems, I used to play 'Pac Man' and 'Galactica' and all of those. Now it is totally different."
2K Games has revealed that WWE superstar Brock Lesnar is the cover star for "WWE 2K17" and former WWE superstar Goldberg would be available as pre-order bonus in the game. We asked Del Rio for his reaction, to which he said: "It is pretty cool, everything is pretty cool. It is pretty cool to see yourself in a video game. It is pretty cool to see myself as the cover for all the countries in Latin America. It was just a great experience."