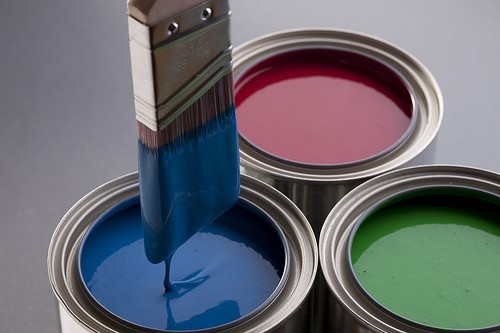 A majority of paints available in India contain alarming levels of lead, a new study revealed.
The study conducted by Toxics Link, an advocacy group that aims for a toxin-free country, looked at 250 samples of enamel decorative paints available in the market. The paints belonged to 147 different brands in India, purchased from Delhi, Karnataka, Andhra Pradesh, Maharashtra, Uttar Pradesh, West Bengal, Gujarat and Haryana.
The tests were conducted by the Certottica laboratory in Italy. The analysis showed that nearly 90 percent of the paints violated recommendations of the Bureau of Indian Standards and contained lead levels above 90 parts per million. The highest lead level recorded was 1,60,000 ppm. Only 26 paints contained lead levels below 90 ppm.
It was found that 111 samples had high lead levels (10,000ppm); 96 samples had lead concentration that ranged between 10,000 and 600 ppm; and about 17 contained lead levels between 600 and 90 ppm. Interestingly, some popular paint brands including Asian Paints, Kansai Nerolac, Shalimar and Berger Paints contained very low levels of lead (between eight and 32ppm), as advertised by the companies.
Researchers also noticed that lead content varied according to the colour of the paint. Nearly 94 percent of yellow paints contained lead levels above 90ppm, followed by 87 percent of white paints, 80 percent of dark coloured paints and 90 percent of the bright coloured paints like blue, red and green.
Lead, a heavy metal, is known to affect the function of every system of the body. High exposure to the metal can cause convulsions, coma and even death, while low levels of exposure can result in low intelligence levels. Previous studies have also linked lead exposure at the early years of growth to ADHD (attention deficit hyperactivity disorder) in children and with children's ability to perform at school. .
Concerned with the findings, health experts urged the government to take necessary steps to help prevent the hidden risks of lead-exposure. "Preventing children, workers and women in reproductive age from exposure to lead, in all its forms, is imperative for their healthy future. The addition of lead compounds to decorative paints poses unacceptable risks and this practice should be stopped as urgently as possible," Dr Nata Menabde, WHO Representative to India, said in a statement. "There is a need to call on countries to strengthen national actions through inter-sectoral collaboration and raising public awareness to eliminate lead paint."
The report titled "Lead in India's Enamel Household Paints" was published on Tuesday, 19 November.