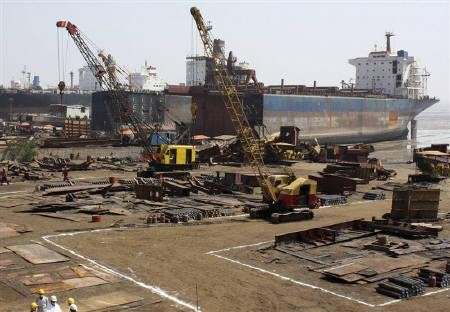 A day after the blast at a gas processing company in south India, another explosion occurred in the ship breaking yard at Alang in Gujarat killing five and injuring seven others.
The gas leakage in a ship at the Alang yard in Bhavnagar district of Gujarat triggered the blast killing five labourers. The incident is reported to have occurred at around 11 am on Saturday, when the labourers were dismantling the ship on plot number 140 of the yard.
"There was gas leakage from inside the ship and the gas was of such intense pressure that the bodies of the labourers caught fire. Two of them expired on the spot and three others expired on the way to the hospital. Seven others who have sustained severe burn injuries are being treated at the local district hospitals," The Hindu quoted Bhavnagar Police Superintendent Manindar Pratap Singh Pawar.
Bhavnagar collector P K Solanki told Business Standard that although, the prime reason behind the blast is suspected to be gas leakage; it can be confirmed only after police enquiry.
The police, who have already started the investigation, are checking if the rules for dismantling ships were properly followed.
According to Pawar, the parts of the ship that poses threat such as the fuel tank, engine and gas rooms are supposed to be opened not cut, unlike other portions of the ship.
"Due permissions have to be obtained from the authorities for cutting these parts. We will probe whether there was a gross negligence or whether the rules were followed and accordingly register an offence," he said.
Marine Police Station Sub Inspector K J Rathod said that officials from Forensic Science Laboratory have arrived at the incident scene for investigation.
The incident comes on the heels of Friday's explosion in Andhra Pradesh, when a gas leakage in the pipeline owned by GAIL led to fire. The incident, which killed 16 and injured around 20 people, occurred on a stretch of pipeline spread across the Nagaram village. Several houses and huts surrounding the pipeline were gutted.