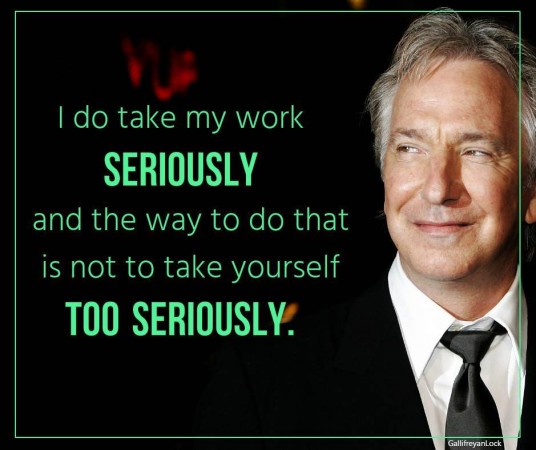 Alan Rickman needs no introduction. Considered as one of the most recognisable actors of all time, Rickman is best known for his role of Hans Gruber in "Die Hard" and of Severus Snape in the "Harry Potter" movie series.
Born in Acton, London, Feb. 21, 1946, Rickman trained at the Royal Academy of Dramatic Art and was also a member of the Royal Shakespeare Company. Rickman's other notable roles include Sheriff of Nottingham in "Robin Hood: Prince of Thieves," for which he won a BAFTA Award for Best Actor in a Supporting Role, Jamie in "Truly, Madly, Deeply" and Colonel Brandon in Ang Lee's "Sense and Sensibility."
Fans across the world were shocked when Rickman died of pancreatic cancer on Jan. 14, 2016, at the age of 69. The news came as an unexpected blow and left all his fans devastated.
As the world celebrates the 70th birthday of the beloved actor, here are some of his most popular quotes [Best read in Severus Snape's voice, we think]:
"If only life could be a little more tender and art a little more robust."
"I think there's some connection between absolute discipline and absolute freedom."
"It would be wonderful to think that the future is unknown and sort of surprising."
"I do take my work seriously and the way to do that is not to take yourself too seriously."
"I think there should be laughs in everything. Sometimes, it's a slammed door, a pie in the face or just a recognition of our frailties."
"Actors are agents of change. A film, a piece of theatre, a piece of music, or a book can make a difference. It can change the world."
"The point about a great story is that it's got a beginning, a middle and end."
"Unless we tell stories about ourselves, which is all that theatre is, we're in deep trouble."
"And it's a human need to be told stories. The more we're governed by idiots and have no control over our destinies, the more we need to tell stories to each other about who we are, why we are, where we come from, and what might be possible."
Source: Brainy Quotes