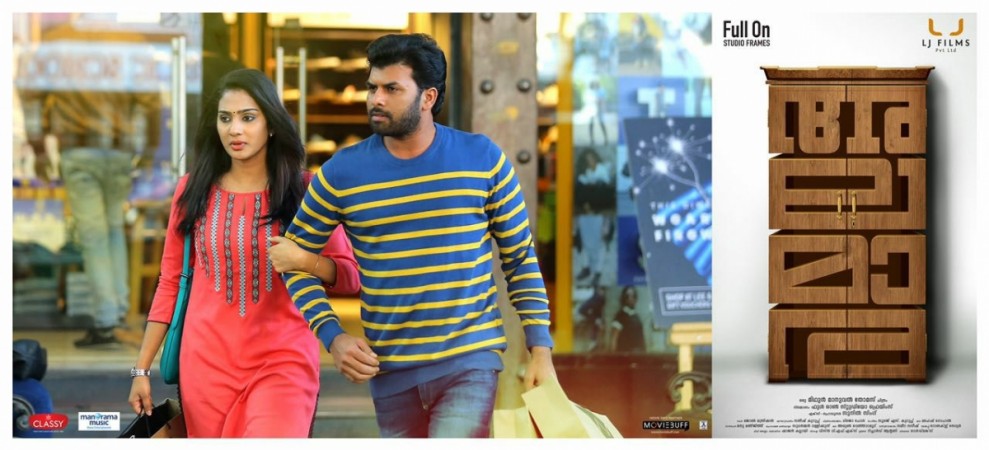 Sunny Wayne and Aditi Ravi's Malayalam family entertainer Alamara has opened to positive response from cine-goers since its release on March 17. Now, the makers have released the video of one of the romantic tracks in the Midhun Manuel Thomas directorial.
Alamara review: Of bossy women, meek men and a cupboard that makes us laugh and think
The song, which begins with the lines Poovakum Neeyen, has been composed by Sooraj S Kurup, while Manu Manjith has penned its lyrics. Vijay Yesudas and Idea Star Singer-fame Anju Joseph have rendered their voice for the melody, which has already become the favourite of music lovers.
"Got little late to post this. My fav and favrt track from ALAMARA. Since the film got released a lot of my friends and others were asking me to post this song. Sorry for being late :D (Sic)," Sooraj wrote on Facebook.
Meanwhile, Anju has also thanked fans for the overwhelming response for the song, which she believes is giving her a break in the industry and calls it a dream come true moment.
Finallyyyy the song is out!!!!! Everyone had been asking for the track...so here it is!!!! Poovanu nee from Alamara Thanks a ton to my dear Sooraj S Kurup for giving me the break!! Kuruppeeeeee thanku da and that too a beautifully composed duet with Vijay Yesudas chettan!!! Dream come true moments...thanku @Manu Manjith chettan, Midhun Manuel Thomas chettan, Kiran Lal chettan and Binil Eldhose for supporting me!!! And my dear hus Anoop John and my parents for standing with me...loads of love to all!!!! Do listen and gimme a review!! U guys will love it!!! Because its such a beautiful track!!! Thank god!!!!! And the visuals are so good Aditi Ravi and Sunny Wayne chettan!!!! Do listen and share!!!!
Meanwhile, Alamara, which is the third movie of Midhun after Aadu Oru Bheekarajeeviyanu and Ann Maria Kalippilaanu, narrates the incidents that happen in the life of newly married couple Arun and Swathi. The ego hassles between their family members, the involvement of nosy neighbours as well as the issues that happen after Swathi's parents gift a cupboard form the storyline of Alamara.
Despite having a few ups and downs, the family entertainer delivers a positive message on how couples must handle the issues between them without the ego factor. The movie also stars Renji Panicker, Sadiq, Seema G Nair, Saiju Kurup, Aju Varghese, Suddhy Koppa, Manju Satheesh, Sonu Anna Jacob and Manikandan Achari in pivotal roles.
Watch the video song here: