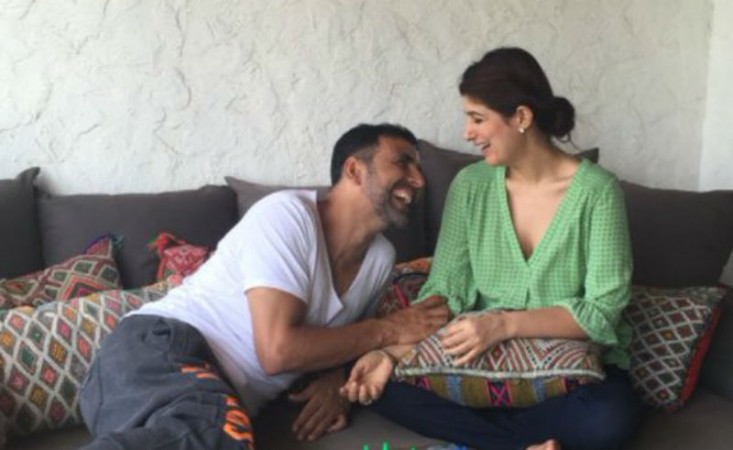 Twinkle Khanna is known for her witty comments on Twitter and the actress-turned-writer has now come up with a sarcastic thought on Karwa Chauth.
Akshay Kumar's wife Twinkle took to Twitter and shared a thought on the ritual of women fasting on Karwa Chauth for the longevity of their husbands. Flaunting her ability to throw sarcasm on a funny note, Twinkle questioned the ritual of fasting by hitting on the longevity of a marriage in current time.
Karwa Chauth: Significance, best messages, wishes, greetings to be shared on the occasion
Twinkle even said that women these days head towards second marriage at the age of 40 and so there is no need for their husbands to live for too long.
"These days by 40 u could be on the way to your 2nd marriage so what's the point of fasting-don't need the men to last that long anymore :) [sic]," she tweeted.
Akshay's wife came up with another witty tweet when another Twitter user asked what if her disbelief in the ritual caused the demise of her husband.
"That is a possibility-so I checked longevity records-100 countries where men without anyone fasting for them live longer than Indian men :)," she said. Twinkle certainly lives up to her Twitter handle name - Mrs Funny Bones.
These days by 40 u could be on the way to your 2nd marriage so what's the point of fasting-don't need the men to last that long anymore:)

— Twinkle Khanna (@mrsfunnybones) 19 October 2016
That is a possibility-so I checked longevity records-100 countries where men without anyone fasting for them live longer than Indian men:) https://t.co/rBspyZDzni

— Twinkle Khanna (@mrsfunnybones) 19 October 2016