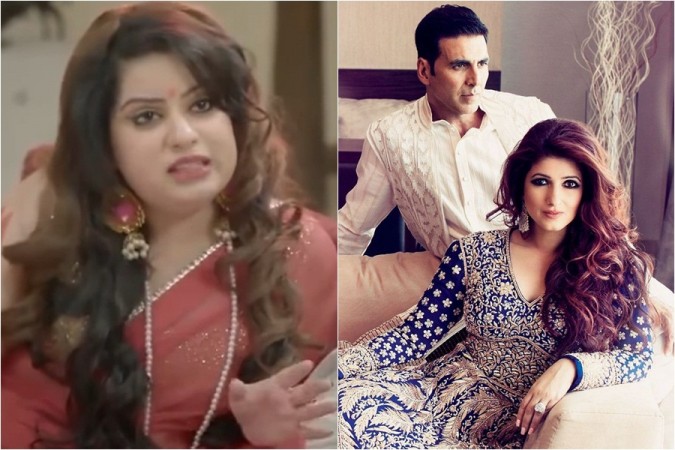 A couple of days ago, Mallika Dua penned an open letter on Twitter addressing her infamous incident with Akshay Kumar on the sets of The Great Indian Laughter Challenge asking people 'wouldn't the actor be offended if someone jokingly made sexist comments on his daughter' saying,
"Nitaara ji, aap bell bajaaiye main aapko bajaata hoon."
While Akshay is yet to comment on the issue, his wife Twinkle Khanna decided to take a stand for her husband and gave an apt reply to Mallika and her father Vinod Dua by addressing the controversy on the social media.
Twinkle Khanna, in her open letter, explained the meaning of slang "Bajata" which is used by both men and women in their everyday lives without sexist connotations.
Read the full, unedited statement of her here:
"I would like to address the controversy on the sets of The Laughter Challenge. The show has a bell which the judges ring after a contestant's exceptional performance and when Ms. Dua went forward to ring the bell, Mr Kumar said, "Mallika Ji aap bell bajao main aapko bajata hun" A pun on the words and actions related to ringing of the bell," she explained.
She hit back at Vinod Dua by referring to his Facebook post which was taken down hours after he shared on the platform and said, "It's a colloquial phrase that both men and women use — for instance, "I am going to bajao him/ her" or "I got bajaoed", Red FM even has a tagline 'Bajatey Raho' all without sexist connotations Mr Vinod Dua, Ms Dua's father, had written a post - it's been taken down now, stating, "I am going to screw this cretin Akshay Kumar". Should Mr Dua's statement also be taken literally or interpreted in context?"
"Words, especially humour has to be seen in its right context. I have always stood up for freedom within comedy including defending AIB's infamous roast on numerous occasions in the past and that is my stance even today, so kindly stop tagging me in this debate," she concluded.
For the uninitiated, Mallika Dua is no stranger to sexist jokes and adult humour. There are numerous videos of hers on YouTube where she can be seen using sex slangs and double meaning jokes.
Check out Mallika Dua's Tinder Aunty act here:
Let's see what Mallika has to say about it next.