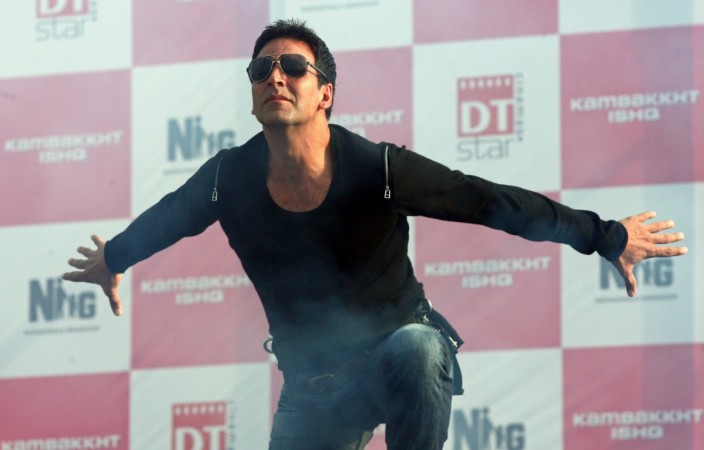 Akshay Kumar made his fans happy when he announced he would play the baddie in Rajinikanth's "Robot 2" ("2.0"). And his "futuristic look" in it is only going to multiply those emotions.
Talking to Behindwoods.com, designer-stylist Rocky S spilled the beans on the superstar's "devilish" avatar. "There is a casual look as well as futuristic look given to the main cast, the antihero has been given a devilish look and female lead has been given formal look," he added.
Costumes are an integral part of a film, but this one has stunts at the centre of it. The sci-fi actioner is being made on a massive Rs 350 crore budget. The makers have apparently shelled Rs 20 crore on one sequence alone.
The scene in question is apparently the customary "good vs. evil" climax where the opponents are shown tearing through a city causing mass destruction. It's on par with Hollywood, reports DNA.
Akshay, who is shooting for the film in question, is pleased to be playing the antagonist. Talking to the Press Trust of India in February, he said he was glad about how he would get "punched" by the South superstar. "I feel like I am on top of the world. Its alright getting kicked and punched. I have done that all my life. It is great to be punched by a superhero like Rajinikanth," he said.
Meanwhile, Firstpost details the technicians involved in making the project a fast-paced, stylised action flick. USA-based animatronics firm Legacy Effects, which had a lot to do with the battle-ready droids in "Iron Man" and "Avengers," has been hired. "Transformers" fame stunt-coordinator Kenny Bates will be overseeing the bone-crunching action; Walt Jones of Tau Films and John Hughes are said to take over the VFX table.
In other news, Akshay has a schedule or two remaining of Tinu Desai's "Rustom," whereas "Housefull 3" is ready for release June 3.