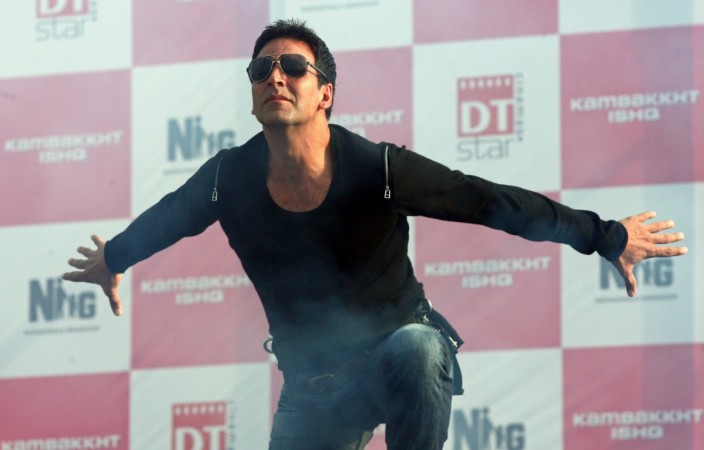 Much like novelist Mary Shelley's Victor Frankenstein, who creates a monster in his lab, Akshay Kumar's crazy scientist in "2.0" ("Robot 2") manages to turn himself into a crow as a result of an experiment gone wrong. The leaked visuals from the shoot show the actor unleash fear on a group of people.
The Bombay Times reported that the crew of the sci-fi actioner is in New Delhi filming crucial climax scenes at the Jawaharlal Nehru Stadium. The team is on a 15-20 day schedule, and Rajinikanth begins shooting in the coming week.
The leaked look doesn't give you the chills; it is over-the-top and hardly menacing. The feather-embellished jacket, scary ochre contacts, and dangerously-extended eyebrows – Akshay's "crowman" act fails to curdle your blood.
His newest avatar may lead his contingent of fans to praise their idol, but the superstar may be making a dodgy bet with "2.0." Discussion on the fate of this big-budget film is for another time, but what Akshay said on bagging the role of a super-villain is heartwarming.
"I feel like I am on top of the world. Its alright getting kicked and punched. I have done that all my life. It is great to be punched by a superhero like Rajinikanth," he told the Press Trust of India.
Akshay's designer-stylist for the film, Rocky S, in an interview with Behindwoods.com detailed the look of every character. He said the main cast has a casual as well as "futuristic" feel to their appearances and added that the anti-hero will be seen in a "devilish" look.
Apart from the look, the climax scene is one of the widely-written about aspects of the film. It is said that the makers have shelled out a massive Rs 20 crore on the bone-crunching action sequences. Aaron Crippen of "Batman Vs Superman" and Kenny Bates ("Transformers") have been roped in to oversee the stunts.