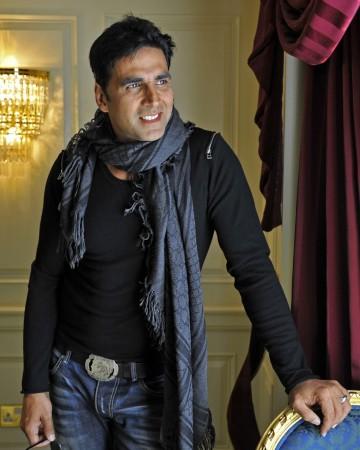 While Bollywood superstar Shah Rukh Khan found a fan in Hollywood actor Hugh Jackman, action star Akshay Kumar has found one in Oscar winner Al Pacino.
Al Pacino of fame happened to see the theatrical trailer of Akshay's upcoming film "Once Upon A Time In Mumbaai Dobaara" (OUATIM Dobaara) and was impressed by his performance as a dangerous underworld don named Shoaib.
He also referred to the film as Bollywood's answer to edge-of-the-seat gangster entertainers. "My friend Barry Navidi showed me a promo of an Indian film with Akshay Kumar. It brought some fond memories back from my Godfather days," "The Godfather" star told The Times of India.
On receiving compliments from Al Pacino, an elated Akshay said, "A touch of appreciation is always held dearly by an actor, even if it's from the simplest of people like our beloved spot boys. But to have your work spoken of so kindly by the world's most admired 'gangster' Pacino himself, I had goosebumps thinking about him watching the promo."
"I was so humbled as an actor, but more so as a huge fan of his legendary work. This man just made a dream come true for me, with one simple message. I just pray he enjoys the film as much as he liked the promo," he added.
Meanwhile, Milan is in the seventh heaven for having received comments from one of the actors he admires the most. "I'm walking around with a silly grin and you know why. The only actor's portrait in my cabin is of this God of Gangsters. He is an all-time legend and a personal favourite," Milan said.
"OUATIM Dobaara", featuring Akshay Kumar, Emraan Khan and Sonakshi Sinha, is a sequel to the 2010 hit "Once Upon a Time in Mumbaai". The film is directed by Milan Luthria and produced by Balaji Motion Pictures.
Earlier "OUATIM Dobaara" was set to hit screens on 8 August along with Shah Rukh Khan's "Chennai Express", but later the film's makers pushed the worldwide release date to 15 August.