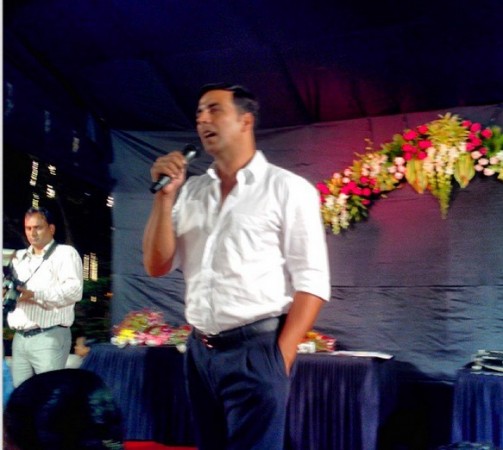 Bollywood's action star Akshay Kumar has taken fancy in the supernatural and the blood-sucking creatures, expressing a desire to don such avatars onscreen.
Akshay immortalised as the industry's "Khiladi" has expressed his wish to take on the role of a on screen after watching the Saif Ali Khan starrer "Go Goa Gone."
Lauding the efforts of the filmmakers on Bollywood's first zombie flick, the martial-arts trained actor has opened up on his eclectic desire to play a supernatural character in the near future, reported ANI.
The vampire genre made famous by Hollywood teenage romance flick "The Twilight Saga" has been a successful venture worldwide and no doubt Akshay wants a similar reprisal in Bollywood.
For the 46-yaer-old actor, varied roles have been the gist of his career choices. Akshay, over his long and fruitful career has successfully juggled the images of a lover boy, action hero and zestful characters.
And if recalled, the star's last supernatural role as the Hindu god Krishna in "Oh My God!" had evoked a positive response in the box office. Hence, another experiment as a vampire would be an interesting transition for the "Rowdy Rathore" actor.
Meanwhile Akshay's masala flick "Boss" has fetched average reviews on its release. The actor had recently said that the current trend of 100 crore mark did not matter to him, "I am not worried about being in 100 crore club. My film 'Oh My God' topped about 82-84 crore and was a success despite not being in the 100 crore club because it was made only in 12 crores. Returns were 300-400 per cent high on 'OMG' and it was a bigger hit than any other films of mine."
"'Boss' is made in about 50 crore. I am not worried if it is crossing 100 crore or not," the Press Trust of India (PTI) quoted the star.
There have also been reports that Akshay's iconic film "Khiladi" might see a sequel soon. However, as of now nothing can be confirmed.