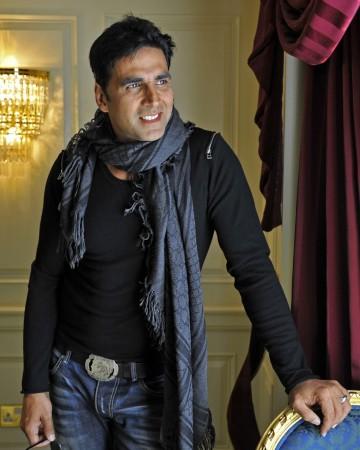 Bollywood actor and action star Akshay Kumar unveiled Honda's new 150 cc bike, CB Trigger, on Monday in Gurgaon .
During the launch, the 45-year-old actor recalled a shooting scene in 1998 film "Keemat" in which he performed a dangerous bike stunt. Akshay played the role of a petty thief along with Saif Ali Khan in the film.
"I have performed too many action roles with motorcycles but a stunt scene in 'Keemat' will always be memorable," Akshay told IANS.
"It was a dangerous scene, in which I had to jump the bike from a height, which was almost as high as a three storey building. There was a door near my landing point and I was not even aware of exactly where to land. I practiced almost a day and finally the scene was done."
The "Khiladi" star, who is popular for his action movies and stunts which he himself performs without the need for stuntmen, said that he prefers bikes over cars while going for shooting. "Traffic congestion and jams are big problems and matter of concern in Mumbai. To counter that I often use my bikes while going for film shootings. The distance covered by car in one-and-a-half hour can be done in 15-20 minutes on a bike," said Akshay.
With his excessive love for bikes (he currently owns five), the actor asserts on the safety factor while riding.
After the unveiling of Honda's CB Trigger, Akshay posted the picture of himself at the launch event on micro-blogging site Twitter. In the snapshot, he is seen riding a bike on stage with a helmet on. "Even when I go on stage I wear a HELMET! Safety first people.Don't risk anyone's life when you're risking yours!!" the actor tweeted.
Akshay was last seen in "Special Chabbis" which was is based on the real life story of con artists. The movie, which also starred Anupam Kher, Jimmy Shergill, Manoj Bajpai, beat the domestic box office collection of "Khiladi 786" and "Rowdy Rathore".