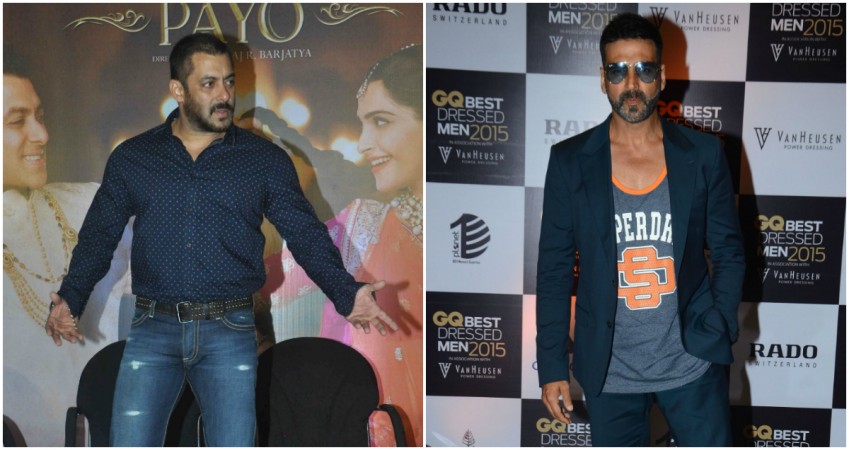 Things are reportedly not fine between Akshay Kumar and Salman Khan. While the former has reportedly been trying to sort things out, the Sultan actor seems to be not interested in mending the relationship.
Eversince Salman had backed out as one of the producers of Akshay Kumar-starrer Kesari, things have not been smooth between the two stars, reports said.
Salman had opted out of the project, which was planned as a co-production with Karan Johar. It is said that Salman Khan backed out after he came to know that Ajay Devgn is also making a film on the same subject. Kesari is based on the battle of Sarahgarhi.
"He (Salman) was earlier in the dark about developments on Ajay's side," The Asian Age quoted a source as saying.
While this has reportedly caused a rift between Akshay and Salman, another factor that apparently has been causing problems between the two is Akki's manager Reshma Shetty, who was earlier Sallu Bhai's manager.
The report stated that Reshma has been putting Akshay in the same projects and TV shows that Salman used to do, and this reportedly did not go down well with the latter.
"It was not a fair practice because the agency knew all about Salman's work and price, among other things. So, Akshay being pitched for the same projects was not welcomed by Salman," the source added.
The report also stated that Akshay was not aware of all these anomalies, and hence he tried to make peace with Salman after he realised what was happening. However, Salman has not responded to AK's efforts to sort things out, the report added.