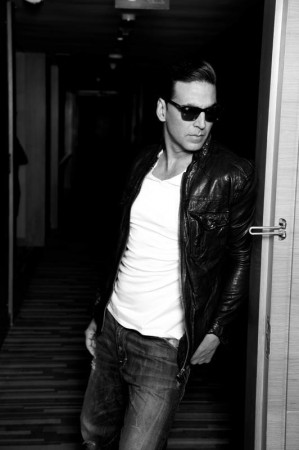 Bollywood actor Akshay Kumar met with an accident on Monday while shooting for the Hindi remake of Tamil blockbuster "Thuppakki".
The incident took place when Akshay was filming an action scene in Film City, Mumbai. A truck was heading towards the actor who managed to slip out the way but not before it ran over his right foot.
Akshay was immediately rushed to Kokilaben Ambani Hospital in suburban Andheri, where doctors informed that he did not suffer any major injuries expect for minor tissue damage. Akshay's wife Twinkle Khanna arrived at the hospital after she came to know he was injured .
Narrating the incident, a source from the film's set told The Times Of India (TOI),"The accident took place at Film City where a action scene with a speeding truck was being shot. During the course of the stunt, the driver missed the timing. Akshay tried to get away from the collision course, but a part of the wheel ran over his toes."
Another source said that Akshay, who is popularly known for his daredevil actions in movies, was under immense pain.
"Though Akshay is a tough man, this was quite painful. He was immediately rushed to the hospital," Bollywood Hungama reported its source as saying.
Akshay was discharged from the hospital the same day of the incident and left for home with Twinkle.
"His treatment is on but he is back home now", an associate close to the actor said.
"This is the second time in last few weeks that he has injured his foot. It is his fitness though which is keeping him going. Anyone else in his place would have been distraught but he is thankful to God that there hasn't been a major incident. With as many as 4 films on floors and over 500 crores riding on him, he can't afford to lie down," the source added.
This is the second injury Akshay had sustained on the sets of "Thuppakki". Earlier in May, the actor had twisted his ankle when took a jump from the sixth to the ground floor of a bulding during an action sequence.