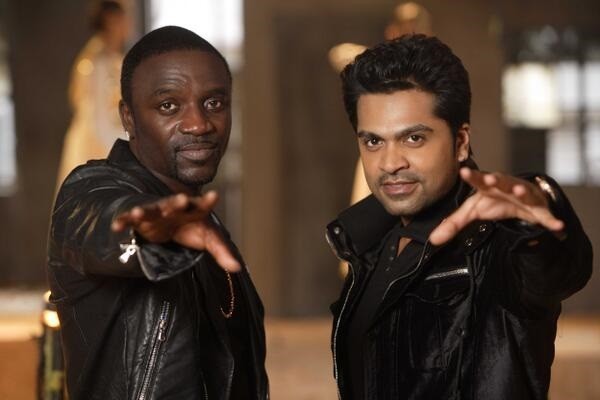 International singer Akon, who became popular in Bollywood with his "Chamak Challo" song in "Ra.One", is working with southern actor Silambarasan (Simbu) on his new album "Love Anthem".
Akon who flew to Chennai last week recorded the global version of Simbu's hit love single, "Love Anthem," which was released in Tamil in 2011 for world peace.
The R&B singer also wore a veshti (dhoti) during the shooting for the music video. Akon makes his appearance for at least 90 seconds. According to reports, the video will have Simbu and the international singer in three different costumes.
"It was fun shooting with Akon. The music video has come out really well and I'm sure audiences will love it when it goes viral. I convinced him to wear the traditional Tamil festival attire and made him dance to few steps in the song," Simbu told Indo-Asian News Service.
"He is a wonderful human being and is very cooperative. I'm grateful to him for taking time off his busy schedule and coming all the way to Chennai to shoot the song with me," he added.
Simbu also thanked Akon on his twitter page saying, "Done with the shoot :) thanks to @Akon such a grt person ... Wonderful human being. He has tried our kuthu step and he just rocked it :)"
Latest buzz about Simbu's "Love Anthem" is that another popular international singer - Rihanna - might chip in to do her part for the song. Earlier, Simbu had claimed that he wanted to work with two international singers (one male and female). His followers had asked him to rope in Rihanna, and speculations are rife that the actor has reportedly approached the singer.
However, Simbu posted a message on twitter saying, "pls do not believe in any rumours regarding #loveanthem ... will inform you for sure if there is any thing new happening ..."
Guess, we need to wait to find out if Rihanna would really be part of Simbu's "Love Anthem".