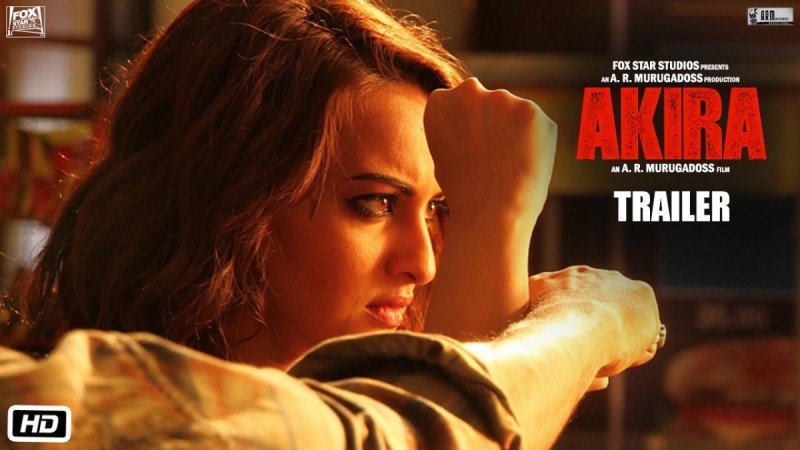 Sonakshi Sinha's "Akira" has apparently been leaked online. The movie, directed by A. R. Murugadoss, has been made available in full for download on a handful of pirate sites.
This is unfortunate, but not at all surprising. Unlike some of the previous Bollywood releases, "Akira" wasn't available online before it opened in theatres on Sept. 2.
But now that internet users can download and watch "Akira" online for free, the action-thriller's box office collection will definitely take a hit. However, those interested in soaking up Sonakshi's martial arts skills may not enjoy the leaked copy of "Akira" that is available for download online.
Rumour has it that the leaked version has been shot in theatres, which is why the video quality is poor and so is the audio. Interestingly, this isn't the first time that a film has been leaked online; "A Flying Jatt," "Rustom," "Mohenjo Daro" and a few others were leaked hours after they hit the screens.
Will the online illegal downloads impact "Akira" box office collection negatively?
If "Akira" would have been leaked online days before it was released in theatres, it would have severely impacted the box office numbers. But the film has been made available for download on the day after it arrived in theatres, which sadly happens to every other release.
"Akira" may have beaten women-centric films on day 1 at the domestic box office, but the business reports aren't impressive. "Akira" has collected Rs. 5.15 crore on Friday and Rs. 7.50 crore day 2, taking its 2-day Indian box office total to Rs. 12.65 crore.
Made with a modest budget of Rs. 30 crore, Rs. 15.50 crore has been recovered through the film's satellite and music rights. This means, the film may just be able to break even on first Sunday itself and rake in profits on the following days.