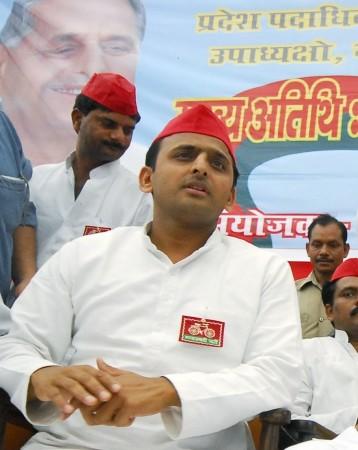 In a bid to give a new look to the Samajwadi Party (SP), today's legislative party meeting is most likely to name its state President Akhilesh Yadav as the new chief Minister of Uttar Pradesh.
According to a source, party Chief Mulayam Singh Yadav met the party's two seniormost leaders, his brother and MLA from Jaswantnagar, Shivpal Singh Yadav, and the face of the Muslim community in the state and MLA from Rampur, Azam Khan, at his residence to iron out the differences among the party leaders about the elevation of Akhilesh yadav to the Chief Minister's post.
It's also believed that Mulayam's family and other party leaders have arrived at a consensus to appoint Akhilesh as the Chief Minister, while Mulayam Singh will focus on national politics.
If confirmed, Akhilesh, currently serving as Samajwadi Party's Uttar Pradesh president and MP from Kannauj, will be U.P.'s youngest chief minister at the age of 39 in the state.
The legislative meeting is also likely to name Azam Khan as the Speaker in the impending SP government in the state.
Earlier, other SP leaders like Naresh Agarwal and Mulayam's other brother Ramgopal Yadav had proposed Akhilesh name during the parliamentary board meeting on March 7.
However, an agreement could not be arrived at as some of the party leaders were not willing to handover the baton to rule the country's most populous and politically influenced state to youngest Yadav.
In a record victory for SP, the party won 224 seats in U.P.'s 403 seats state assembly election.
It's the first time that SP has won the highest majority in the state assembly elections, even higher than Bahujan Samaj Party's magical tally, 205 in 2007's state election.