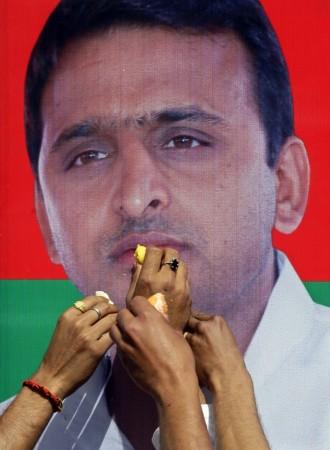 Samajwadi Party (SP) leader Akhilesh Yadav, who was selected as Uttar Pradesh's next Chief Minister by the party's legislative board Saturday, has assured the people of the state that all the promises made in the election manifesto will be fulfilled.
"We will fulfill all promises in the manifesto...I assure the people of Uttar Pradesh that every promise we have made to the people, we will fulfill them," Akhilesh told reporters.
He repeatedly thanked the people of Uttar Pradesh for giving the Samajwadi Party the opportunity to form the government.
"We will work hard to maintain good law and order in the state. We will be appointing honest officials to look after law and order in the state," Akhilesh said.
Akhilesh (38), who is currently serving as Samajwadi Party's Uttar Pradesh president and MP from Kannauj, will be UP's youngest chief minister.
Akhilesh will be the 15th chief minister in the country to be chief minister before turning 40. Those who became chief ministers when they were below 40 include, Puducherry's M O H Farook at 29, Arunachal Pradesh's Gegong Apang at 30, Assam's Prafulla Mahanta, Jharkhand's Madhu Koda at 35, Kerala's A K Anthony at 36, Maharashtra's Sharad Powar at 37, Goa's Shashikala G Kokodkar at 38, Delhi's Chaudhry Brahm Prakash at 38, Bihar's Rabri Devi at 38, Rajasthan's Mohan Lal Sukhadia at 38, Jammu and Kashmir's Omar Abdullah at 38, Sikkim's Nar Bahadur Bhandari at 39, and Uttar Pradesh's Mayawati at 39.
Meanwhile, various political party and social leaders congratulated Akhilesh.
"I congratulate Akhilesh Yadav as new chief minister of UP. He has got the mandate to be the chief minister and I hope whatever commitment he has made and his party has made will be implemented and he will learn a lesson from the past," said Congress spokesperson Rashid Alvi.
"He is a young Chief Minister. He should introduce new political culture in UP," said Bharatiya Janata Party leader Arun Jaitley.
Union Minister of Youth Affairs and Sports Ajay Maken tweeted: "All the Best Akhilesh! Prove that the Youth of this country has matured to assume a leadership role. High expectations the only disadvantage."
Jammu and Kashmir Chief Minister Omar Abdullah remarked," Yey, I'm no longer going to be the youngest Chief Minister in the country. Congratulations Akhilesh & all the best for the next 5 years."
Former IPS officer Kiran Bedi tweeted: "Every victory is only the price of admission to a more difficult problem.(Henry Kissinger). Plenty for the young CM of UP in waiting!"
(With agency input)