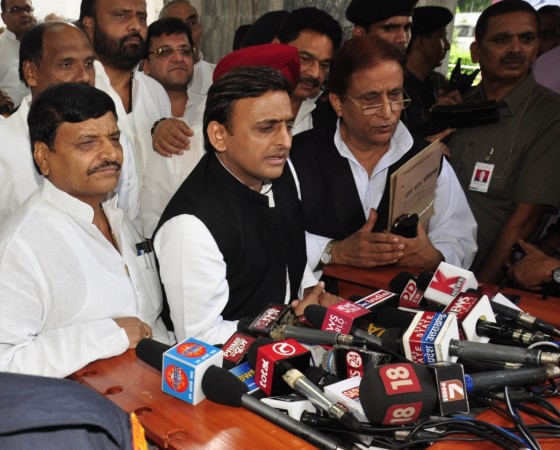 In a fresh round of appointments in the Uttar Pradesh government, Chief Minister Akhilesh Yadav appointed 10 new ministers, including three he had sacked earlier, on Monday. This was the eighth time Yadav has expanded the Cabinet since he was appointed chief minister.
Yadav was put in an embarassing moment after he was forced to appoint Gayatri Prasad Prajapati, Manoj Pandey and Shivakant Ojha again. Prajapati, a close aide of Samajwadi Party chief Mulayam Singh Yadav, had been accused of illegal mining and land grabbing.
The three ministers who were taken back were close to Mulayam Singh and his brother Shivpal Singh. Shivpal and Akhilesh had been vying for the top position in the state unit of the party and were involved in a public fight.
Of the 10 appointed, seven were given Cabinet position while three were made Ministers of State.
State minister Abhishek Mishra, a Brahmin, was given a Cabinet rank, which is being seen as a move to woo the Brahmin community. Apart from Samajwadi Party, the Congress and the Bahujan Samaj Party were also vying for their votes in the state, which will go to polls early in 2017.
Other ministers who were also sworn-in included Ravidas Mehrotra, Narendra Verma, Ziya-ud-din Rizvi, Shankhlal Majhi, Riyaz Ahmad and Yaseer Shah.
With Monday's expansion, the number of ministers in the state government rose to 61, one more than the 60-minister ceiling, set in ratio of 15 per cent of the total assembly strength.
However, minutes later, Minister of State Laxmikant Nishad was sacked, bringing the head count of ministers back to 60.
(With IANS inputs)