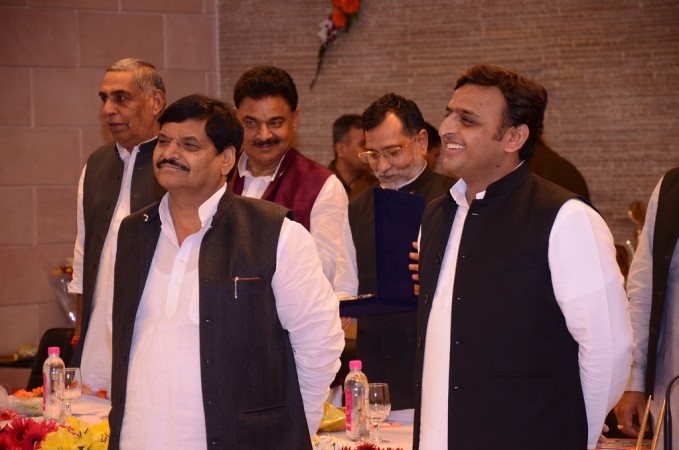 Samajwadi Party (SP) chief Mulayam Singh Yadav on Friday brokered a truce between his son Uttar Pradesh Chief Minister Akhilesh Yadav and brother Shivpal Yadav.
The UP CM's office, late on Friday, issued a statement saying that Shivpal Yadav will be given his three portfolios back, including Public Works Department (PWD), Irrigation and Cooperative and Revenue. The statement also said that Shivpal's close aide, Gayatri Prajapati, will also be reinstated in the Cabinet. She was earlier removed from her position by the UP CM.
Shivpal, on Thursday, had resigned from the ministry and all party posts held by him following the feud. The crisis in the party occurred after Mulayam removed the chief minister from the position of the UP Party President and replaced him with uncle Shivpal. Hours after the decision, Akhilesh took away key portfolios from Shivpal.
"I am ready to return party posts and even portfolios but I must have the power to distribute tickets because the forthcoming poll is after all a test for me and my party," Akhilesh was quoted as saying by India TV.
Meanwhile, Shivpal said that he will be willing to fulfil any responsibility that is bestowed on him, whether of the ministries or as the party chief. "If I get departments I will work on that, if I become Party Chief I will fulfil that responsibility," he said
The uneasy truce between the party came after Mulayam met Akhilesh and Shivpal separately on Friday.
"There is no conflict between Akhilesh and Shivpal. Akhilesh had come to me. He also feels bad about whatever happened. I told him how to prepare for the elections," he said.
"Ours is a big Samajwadi parivar (family). Sometimes there are quarrels within the family. It happens everywhere. But it's the family which is at fault for giving the media so much to talk about," he added saying all is well in the party now.
The Samajwadi Party leader also said that everyone in the party should unnite and work together to win the upcoming Uttar Pradesh polls in 2017 and to ensure that Akhilesh secures the seat of chief minister again.