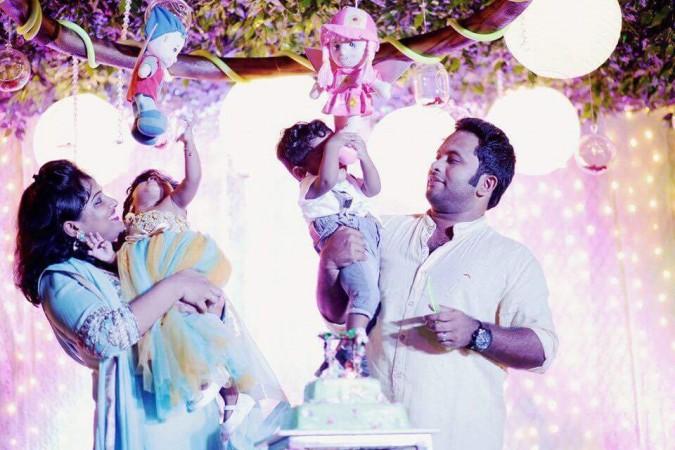 When actor Aju Varghese's wife Augustina delivered twin boys on September 30, little did the comedian know that he and his children would become one of the most trending topics on social media.
Aju, who is now a proud father to four children and the first Mollywood celebrity to have two pairs of twins, has been garnering wishes from the film fraternity. However, his followers are busy coming up with creative trolls and memes on the actor. Interestingly, he has also shared a few of the trolls on his Facebook page thanking the creative brains behind them.
After the news broke on Friday afternoon, Aju, who was overwhelmed with the love and care of his friends and fans, posted on his Facebook page: "Pls pardon if I am unable to respond to your personal messages soon. Overwhelmed seeing your love and concern an thank you for ur wishes, blessings and prayers. Love Aju." The new-born twin boys have been named Jake and Luke.
Aju's two-year-old kids Evan and Juana, born in October 2014, have already made their debut on the big screen with Vineeth Sreenivasan's directorial venture Jacobinte Swargarajyam. They were seen as the twin kids of Aju, who appeared in a cameo role in the Nivin Pauly-starrer that has become one of the highest grossers of the year.
Check out the troll messages on Aju Varghese here:
-
Sharafudheen as Aju Varghese: Bring me an omlette
Siju Wilson: Isn't it "double" omlette sir?
Sharafudheen: You just stir the omelette mix, no need to stir me. fingers crossed [a scene from the movie Premam]
Aju Varghese as a Catholic priest who looks at the newly-wedded priest who belongs to Orthodox church [a scene from the movie Two Countries]
Nivin Pauly as Aju smiling as Manoj K Jayan asks 'Twins are a weakness for you right?' [a scene from the movie Thattathin Marayathu]
Aju Varghese THEN and NOW
Dulquer Salmaan: Oh, is this Dulquer Salmaan: Oh, is this a joint family?
Sunil Sukhada as Aju: Aey, all are mine. joint family? [a scene from the movie Ustad Hotel]
A scene in 2025 when Aju and family are going to attend a wedding ceremony. [a scene from the movie Pulivaal Kalyanam]
Psychiatrist asking Vikram (Aju): Which was your favourite movie during your childhood days?
Vikram as Aju: Irattakuttikalude Achan (Father of twins) [a scene from the movie Anniyan]
A news report on Aju Varghese becoming father of twins again.
Seeing this Harisree Ashokan to Indrans: Then can't we declare Aju's house as a nursery. [a scene from the movie Punjabi House]
A news report on Aju Varghese becoming father of twins again.
Innocent as Aju: Its double.. double.. double in first delivery, now again double. [a scene from the movie Nandanam]