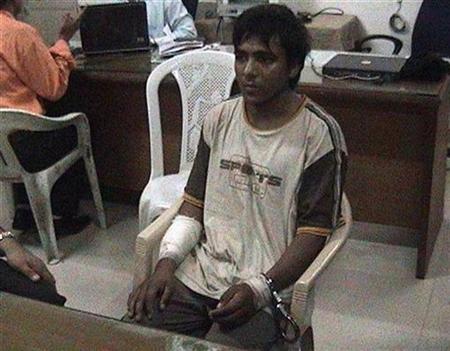 Lone surviving terrorist and 2008 Mumbai attack convict Ajmal Kasab moved the President's Office On Tuesday seeking mercy.
It seemed that Kasab has taken a cue from the case of Afzal Guru in order to deter his death sentence. He has sought mercy after the Supreme Court ruled to hang him while upholding the Delhi High Court's order in connection with the 26/11 case.
There is no timeframe for the President to take a call on issues seeking clemency from death. For instance, Parliament attack case convict Afzal Guru's mercy plea has been gathering dust at the President's office even after a decade.
Guru continues to elude the gallows as the President Office showed inefficiency to take a stand on the issue even after more than ten years.
Afzal Guru's mercy plea issue saw the term of three Presidents but is yet to be decided.
Afzal was first sentenced to death in December 2002 by a Delhi court after he was found guilty in conspiring attacks against the country. The Delhi High Court upheld the decision on Afzal's capital punishment while dismissing his plea in October 2003.
In 2005, the Supreme Court also confirmed Afzal's death sentence, and two years later the convict moved the apex court.
Afzal then sought President's mercy to relieve him from death row, after which the President's Office sought the Home Ministry's response on his plea.
Since then the issue was on hold, as neither AJP Abdul Kalam nor Pratibha Patil was successful in effectively dealing with the case and taking a decision on Afzal's controversial mercy plea.
What remains to be seen is if President Pranab Mukherjee will effectively deal with Kasab's mercy plea or drag the issue for years.
In November 2008, Kasab along with other fellow terrorists opened fire on the streets of Mumbai and killed more than 160 people. The 26/11 attack is considered as the one of the worst terror cases in India.