The audio and trailer of Ajith's "Yennai Arindhaal" have become big hits. Fans and celebs are all praise for the impressive audio and trailer.
The trailer and audio have taken Ajith's fans by storm. And not just that, even celebrities are bowled over by the music and the video-clip of "Yennai Arindhaal".
Many celebrities have taken to Twitter to share their views about the "Yennai Arindhaal" trailer and the audio. Here, we bring you their posts below: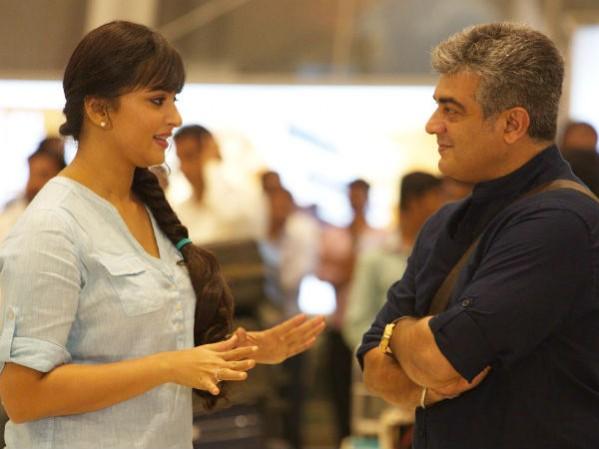 Director Venkat Prabhu Says
#YennaiArindhaal trailer semma #masss #thala @menongautham @Jharrisjayaraj @silvastunt addicted to idhayathai song! http://youtu.be/B7c87SWQg-Y
Producer Varun Manian Wrote
Tripping on an enjoyable, peppy Harris song after ages. "Mazhai Vara Pugudhae" #YennaiArindhaal on repeat mode...
Samantha Posts
Ok yes yes i know I am super late but just watched the trailer of #yennaiarindhaal. http://YouTube.com/watch?v=B7c87SWQg-Y ... love!!!!! Amaazeeeeee!!
Film Critic Sudhish Kamath Tweets
Gautham was plagued by conflicts, all kinds of legal & personal battles & broke as hell when he started #YennaiArindhaal He just fought back
Actress Raai Laxmi Writes
#Thala is unbeatable!!!Wow I'm speechlesswords falling short to express how stunning he looks#YennaiArindhaal http://youtu.be/B7c87SWQg-Y
Actress Tamanna Bhatia Tweets
#YennaiArindhaal really liked the trailer all my favourite actors #Ajith sir#Anushka @trishtrashers , looking gr8 all the best 2 da team
RJ Balaji Posts
Yennai Arindhaaal trailer is nejamalay sema gethu..! (Pinkuripu - idhu retweet kaaga sollapattadhu alla :)
Filmmaker Dhananjayan Govind Says
I like #YennaiArindhaal trailer https://www.youtube.com/watch?v=B7c87SWQg-Y ... for #Thala Ajith giving scope to @arunvijayno1 & all artistes to shine. Good show:-)
"Yennai Arindhaal" is directed by Gautham Menon and produced by AM Rathnam. The Tamil movie has music by Harris Jayaraj, who has scored seven tracks for its album. The flick has Anthony's editing.
The Ajith Kumar, Trisha Krishnan and Anushka Shetty starrer film will hit the screens on 29 January.