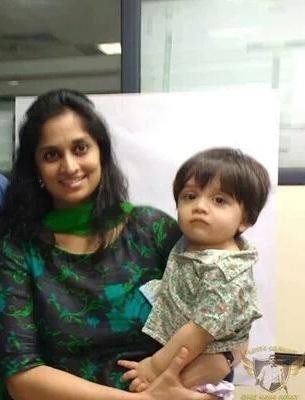 Ajith and Shalini's 10-month-old son Aadvik's first photos are finally out. The pictures were captured at Chennai's Passport Office.
The actor's family, including his wife Shalini and daughter Anoushka, was also spotted at the venue. A fan clicked the photos and released them on the Internet, after which they went viral.
The couple has been protective about revealing the picture of their family's youngest member, Aadvik, who is fondly called by the fans as Kutty Thala. The couple had welcomed their son on 2 March, 2015.
Also see the photos by clicking here
Ajith's fans have been curiously waiting to get a glimpse of Ajith's son Aadvik. Finally, they got to see the baby on Friday, 22 January, when it hit the Internet with a bang. They have given a warm reception to the snaps by setting a trend on Twitter with multiple hashtags.
Ajith and Shalini had got married in 2000 after falling in love while shooting for 1999 hit film "Amarkalam". Their first child Anoushka was born in 2008.
Thala 57 to Start in April
On the other end, Ajith has given a nod to tried-and-tested director Siruthai Siva one more time. They had earlier worked in "Veeram" and last year's blockbuster "Vedalam". The successful association has paved way for their third film.
The film, which is currently being referred to as "Thala 57", will be bankrolled by Sathyajyothi films. The director is at present busy with the script works and the project will begin in April 2016. The hunt for the female lead is on and the names of Tamanna Bhatia, Nayantara and Kriti Sanon are doing the rounds.
Aadvik Ajith with his mum Shalini Ajith. #KuttyThala pic.twitter.com/TcJwLHD4c2

— THALA AJITH (@ThalaFansClub) January 22, 2016
Thala Ajith, Shalini Ajith, Anoushka Ajith and Aadvik Ajith together. #KuttyThala pic.twitter.com/KXm7gOvQHc — THALA AJITH (@ThalaFansClub) January 22, 2016
#KuttyThala Aadvik First Look ;) pic.twitter.com/FZBwYCprl8

— Trollywood™ (@TrollywoodTamil) January 22, 2016
Shalini Ajith Kumar with Aadvik Ajith Kumar. A clearer and closer pic of #KuttyThala. pic.twitter.com/3noaosRJEC — THALA AJITH (@ThalaFansClub) January 22, 2016