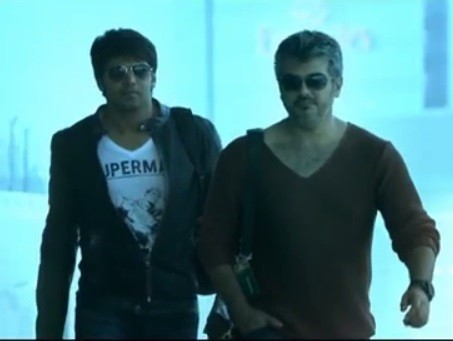 This year's Diwali will be a big festival weekend for the Tamil film industry, as films of four popular stars are heading for a big showdown.
The makers of Ajith-Vishnu Vardhan's "Arrambam", Arya-Selvaraghavan's "Irandam Ulagam", Vishal-Suseenthiran's "Pandiyanadu" and Karthi-Rajesh's "All in All Azhagu Raja" have announced that they are looking to release their films during the Diwali weekend.
Earlier, Simbu's "Vaalu" and Vikram Prabhu's "Ivan Veramathiri" were also expected to hit the screens on Diwali. But these two films moved out of the race as they did not want to clash with big films. Now, only four films are in the Diwali race, but trade experts feel that it is not possible for theatre owners to accommodate all these four biggies at the same time as there are not enough screens.
"Today a biggie has to release in 300 to 350 screens, and there are hardly 700 screens fit for new releases as the remaining 250 odd screens are in a bad shape and some are touring talkies. So I feel only two biggies can be accommodated," Annamalai of the TN Theatre owners association told Sify.
Apparently, only two films are expected to make it to the scheduled release, while two others have to back out.
Interestingly, all these films are in various stages of production. Ajith's "Arrambam" has been in the making for more than a year. It is not clear if the makers will back out from Diwali race, as the festival season has proved lucky for Ajith's films.
Similarly, "Irandam Ulagam" is also in the making for several months. Vishal's film is the latest entrant in the Diwali release list, while the makers of Karthi's film are also planning to release their film during the festival weekend.
The big question remains as to which of these biggies will drop out of the Diwali race. Film exhibitors have confirmed that only those films which get censored first and get a "U" certificate (entertainment tax exemption) will be given priority, Sify reported.
Of these four films, only the music of "Irandam Ulagam" has been released. The other films are yet to announce their audio launch dates.