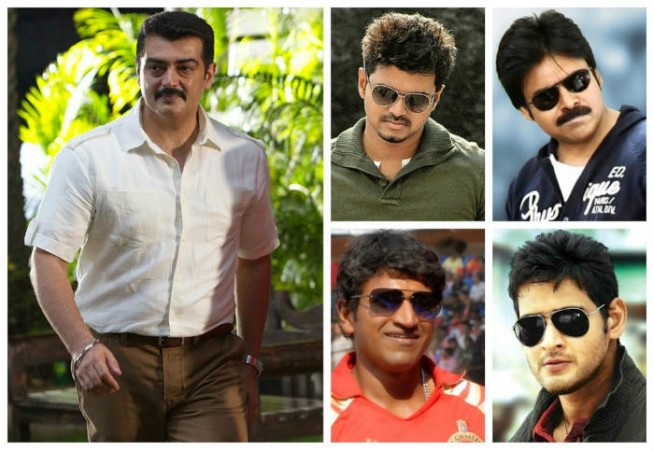 Ajith Kumar has beaten South Indian stars including Ilayathalapathy Vijay, Telugu actors Pawan Kalyan and Mahesh Babu to win the Ultimate Star of South tag.
In a poll conducted by Bollywoodlife, Ajith has been declared the Ultimate Star as he has received more than the half of the vote shares. He got 51.27% votes in the poll while his nearest competitor Vijay garnered 39.69% votes.
It is quite shocking that the two big stars of Tollywood, Pawan Kalyan and Mahesh Babu, did not give any competition as they ended the race with single digit vote shares.While Pawan Kalyan got 3.81% votes, Mahesh Babu could only earn 1.84% votes.
The more surprising part of the story is that legends like Rajinikanth, Kamal Haasan, Malayalam superstars Mammootty and Mohanlal, Kannada actor Puneet Rajkumar, and Ravi Teja could only get meagre percentage of votes.
It clearly appears like the battle was fought between the fans of Ilayathalapathy and Thala while the fans of other stars remained out of competition. Apparently, the non-participation of the all sections of audience is said to have helped Ajith to win the race easily.
But a flaw in the polls one could point out is that a reader can vote any number of times, which could make the race highly biased. So, this helps a fan to vote multiple times to ensure that his star wins.
However, nobody can deny that Ajith is one of the popular stars among the new-age audience. He has a good fan-following online as well.