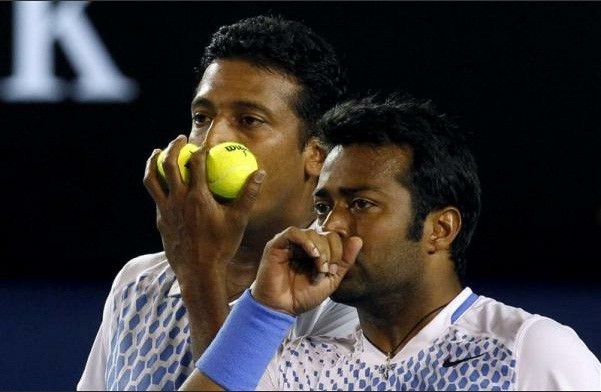 The All India Tennis Association on Thursday announced that it would be sending two doubles team to the Olympics, thus bringing a compromise formula to resolve the selection crisis.
While announcing the decision during a press conference, AITA president Anil Khanna said that India's second ranked Mahesh Bhupathi would be paired with third-ranked Rohan Bopanna while top player Leander Paes will be paired with low-ranked player Vishnu Vardhan from Bangalore.
"AITA has decided to send two teams -- Leander Paes with Vishnu Vardhan and Mahesh Bhupathi with Rohan Bopanna -- for men's doubles in London Olympics," Khanna said.
Admitting that the decision had been taken as Bhupathi and Bopanna were adamant to play together, Khanna said that although the decision was not fair for Paes, he expected that Paes would not let the AITA down.
"This decision is unfair to India no. 1 (Paes). AITA holds Leander in very high esteem. We are confident that Leander won't disappoint us as he has done yeoman's service to the game," Khanna said.
Leander Paes is reportedly yet to make any decision on the AITA's compromise formula. This will be the first Olympics for both Bopanna and Vishnu Vardhan.
Earlier on Wednesday, Paes threatened to pull off from the Olympics if he had to partner with a lower-ranked player and the AITA sent another doubles team pairing Bhupathi and Bopanna to the Olympics. Paes said that he wasn't against pairing with a low-ranked player but insisted that it would not be acceptable if the AITA decided to send two teams.
The trouble began when the AITA announced that Leander Paes and Mahesh Bhupathi, who recently won the French Open mixed doubles title with Sania Mirza, as India's official doubles entry for the Olympics.
But Bhupathi refused to play with Leander Paes following differences of opinion. He showed his interest to be paired with Rohan Bopanna and both of them made a joint statement, expressing their strong desire to play together.
Now that the AITA has decided to send Bhupathi and Bopanna as the doubles team, both the players have expressed happiness about the decision. "We are excited that we will be playing together at the Olympics and our sole focus is now on our team's preparations for the Games," they said in a joint statement, according to news agency Press Trust of India.
Meanwhile, the AITA announced that Paes would be paired with Sania Mirza to play the mixed doubles tournament at the Olympics. The association will apply for Sania's wild card entry and if she gets it, she will be paired with Paes as they would be able to play directly at the Olympics.
Thursday (June 21) is the last day to announce the nominations of the players to the International Tennis Federation.