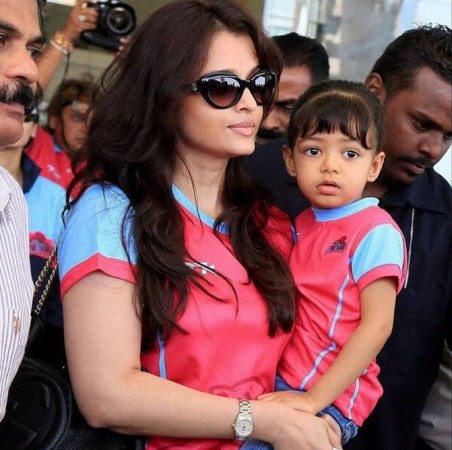 Aishwarya Rai Bachchan is busy shooting for Sanjay Gupta's "Jazbaa" in Mumbai along with her co-stars, and the rest of the Bachchan family appears to be taking extra care of the youngest member of the family, Aaradhya, while her mother is away at work.
The three-year-old recently shared a happy moment with her grandfather and Bollywood Megastar Amitabh Bachchan, when he gave her a lesson on the usage of walkie-talkie. The little one was said to be quite fascinated listening to her grandfather's voice.
Sr.Bachchan shared the piece of news on his blog recently. "And as for the other 'little one' .. have given her a lesson in walkie-talkie usage today and the fascination of being able to converse with her Dadaji even when she cannot see him, creates screams of joy and laughter ... the most sweetest visuals in little ones ..." he wrote.
Aishwarya, who took some time off from the film industry to raise her child, is making her comeback with the much anticipated film "Jazbaa".
There were reports that husband Abhishek Bachchan is helping wife balance her work and motherly duties at the same time.
The actor is said to plan out his work schedule so that he can be with his daughter as much as possible when his wife is not around.
Aishwarya, who is known to always prioritise Aaradhya and her upbringing over work commitments, has made certain adjustments in her work schedule, where she is said to be available to the film's director only when her daughter needs no assistance at home.
"Jazbaa" is a female-oriented film that has the beauty queen play the lead role of a lawyer and will see her perform some high octane never-seen-before action sequences. The film also features Irrfan Khan and Shabana Azmi in important roles. Some leaked pictures from the film's sets have also made their way to the internet.