Fans of Amitabh Bachchan were in for treat this Sunday (30 June), when his son Abhishek, daughter-in-law Aishwarya Rai and grand-daughter Aaradhya joined him to meet them.
Amitabh meets his fans every Sunday outside his famous home Jalsa in Mumbai. Big B once tweeted: "Every Sunday from 1982 of my accident in 'Coolie' to this day nonstop, the crowds and fans and well-wishers are here."
This Sunday, his fans were in for a surprise when the Bachchan family including Abishek, Aishwarya and Aaradhya met their fans and waved at them. However, Big B's wife Jaya was missing from all the action. Amitabh also posted pictures of his family waving to the crowds on his Facebook page.
"The Sunday well wishers had a bit of a surprise today ... the little one came out too ..," he wrote on Facebook. "More crowds for the Sunday meet and a more bewildered Aaradhya .. !"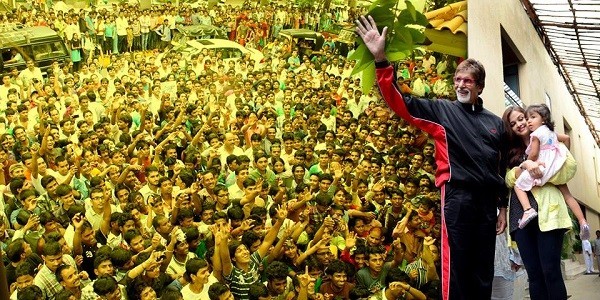 Aaradhya was born in 2011, and ever since her birth the papparazi had been curious to get a glimpse of Bollywood's most-celebrated child. However, the Bachchan family have shielded her from the media's prying eyes for at least a year. Her first pictures surfaced when the family gathered to celebrate Bachchan's birthday last year.
Since then, the toddler has been seen accompanying her mother on numerous occasions including the recent Cannes Film Festival in France two months ago. The mother-daughter duo returned to India last week after travelling to various places overseas.
Aaradhya's father Abhishek had earlier been spotted with Big B many a times. But this is Aardhya's first meet with the ecstatic fans.