Celebrity fans all over the world are waiting eagerly to have a glimpse of Aaradhya, daughter of Indian celebrity couple Aishwarya Rai and Abhishek Bachchan.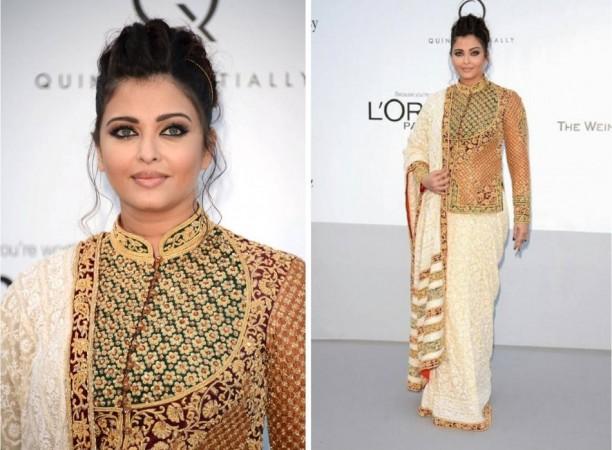 Six months have passed since her birth in November last year, but the newest member of Bachchan family has still not been introduced to the world.
And for the fans to note, the trio is enjoying their own private space and the new parents are in no hurry to expose their bundle of joy to the world.
Leave aside her public appearance or picture, even the formal name of the newborn was kept a secret for five-long-months. Recently her Grandpa Amitabh Bachchan had to reveal the name "Aaradhya" via twitter on unending requests of his fans.
There were speculations doing the rounds that Beti B would appear on the Cannes red carpet along with her superstar mom, but the actress shunned down all the rumours when she arrived alone at the film festival in France, last week.
However, the latest bit suggest that though the little one didn't debut at the Cannes events and red carpet arrivals, Aaradhya did accompany her mom to the city of lights.
In an exclusive picture by a national daily, the six-month-old can be seen cradled by her mom in a baby-carrier and tenderly held in her arms.
Aishwarya was spotted by the paparazzi while she was coming out of France's Nice-Cote d'Azur International airport, embracing her little one to her bosoms. However, the shutterbugs couldn't capture the angelic face of former Miss World's daughter, as it was nicely covered with a shawl and the suit flap.
Hindustan Times published the photograph of Bollywood's most famous mother-daughter.
Despite all the criticism, the 38-year-old is certainly not anxious about the post-baby weight gain and is simply enjoying the beautiful phase of motherhood.
"It is wonderful. You ask the question and I beam!," she told reporters. "It's splendid... It's inexplicable. The joy, the bliss, is wonderful."
"A smile from my daughter and that's it! She's good, she's great," Aishwarya added.
Check out the exclusive picture of Aishwarya Rai Bachchan arriving at Nice-Cote d'Azur international airport with baby daughter Aaradhya in a baby-carrier on May 26 in Nice, France, here.