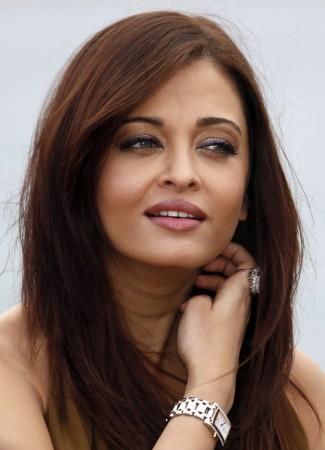 Her post-pregnancy weight has garnered callous criticism all over the world but this Indian beauty has so far remained impassive to any such reactions.
None to be blamed... a star is a star and Aishwarya Rai has attained that stature today that her every step, look or comment is a subject of immense scrutiny.
Today, the 38-year-old is not only a former super model or Bollywood heroine but she is an actress of International fame. The journey started with her International debut Bride And Prejudice and today she is the most popular Indian face in Hollywood.
Though the actress has a bunch of international brand endorsements, films and other crucial assignments in her kitty, Aish's most important commitment is to be with her newborn daughter.
With a mom like her and father and grand-parents like Bachchan's, the six-month old Beti-B is a born star... proverbially born with a silver spoon.
Every bit of her, pre-birth, post-birth, name, picture has extensively been covered by media and this time at Cannes the debate was - How will the healthy Aish look on the red carpet? What will she wear? Will Beti B accompany her on red carpet? Will she be able to awe the spectators? and so on...
Proving her critics entirely wrong, the starlet stunned at the red carpet as she slipped in her curvaceous figure in dazzling designer apparels.
The former Miss World donned a cream colored embroidered chikankari sari designed by Indian designer Abu Jani-Sandeep Khosla and in the French Riviera; the actress sizzled in a grey boho-chic maxidress by Australian designer Angelo Katsapis.
At both the events, this L'Oreal brand ambassador looked slimmer and left onlooker's mouth literally hanging open at Cannes.
After the whole lot of hullabaloo about her weight gain, the actress broke her silence for the first time and made it clear that the criticism is definitely not bothering her at all.
In fact, the new mom is loving her new role, "I'm not complaining as this has been a way of life for so long now, from your adult life till the time that you have stepped out, working, multi-tasking round the clock," DNA quoted her as saying.
"People talk about sleepless nights, but that is the way we live our lives. Can't be complaining about it when it comes to your baby," she said.
Aishwarya walked the Cannes red carpet for 11th year in a row and for the first time after the birth of her daughter Aaradhya.
"This time it was easier to make my trip here and my appearances at the film festival because I'm not filming right now. So I could work it into my schedule," Aishwarya told NDTV.
"It is about the cause and helping raise funds. I have brought a drape from Abu and Sandeep to auction off here and contribute to the cause," she told the daily.
Sources close to the star said that Aish is happy being "healthy" and the questions regarding her weight do not really perturb her anymore.
"I have never been one for strict diets," Aishwarya was quoted as saying by the Time of India.
It seems Aish is in no hurry to shed the extra kilos and is leaving the natural process to its usual self. She is utterly enjoying her motherhood with family, close friends and most importantly with her bundle of joy.