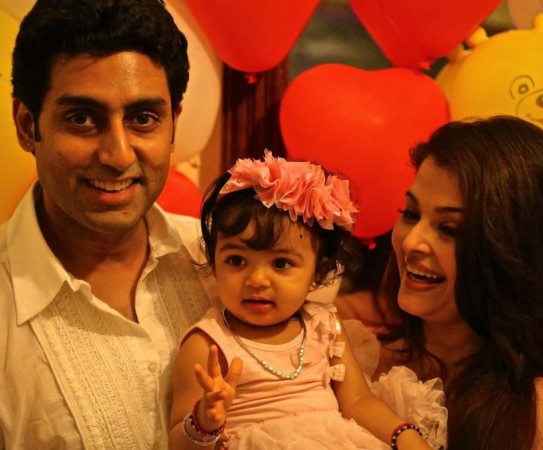 Former Miss World and Bollywood actress Aishwarya Rai Bachchan usually takes her daughter Aaradhya wherever she goes, be it Cannes Film Festival and overseas shooting assignments but she reportedly made an exception for the shooting of a jewellery ad, leaving her 15-month-old toddler with her mother.
However, such a caring mother that she is, Aishwarya made sure that she stayed close to her daughter by requesting the heads of the brand to shoot the ad at Mehboob studio which is just a stone's throw away from her mother's apartment, reported Mid-Day.
"Aishwarya doesn't take her baby to her shoots. If she travels outside Mumbai, her mother accompanies her. For the shoot of her upcoming jewellery ad, she requested the brand honchos to shoot in Mehboob studio," the tabloid quoted a source as saying. It added that the actress dropped her toddler daughter with mother before rushing off for shooting.
It is reported that the Aishwarya plan her shooting schedules well in advance keeping in mind the convenience of her daughter.
The 39-year-old actress has been staying away from films ever since she gave birth to Aaradhya on 16 November 2011.
It is reported that she is finally ready to back a comeback to films with her husband Abhishek Bachchan in Prahlad Kakkar's directorial "Happy Anniversary" but conflicting reports about the same has cast doubts on the film.
"Aishwarya is a fully hands-on mother. She doesn't let anyone take care of Aaradhya as long as she is around. And if Aishwarya has a commitment to attend to, Abhishek looks after the baby. Aaradhya too depends entirely on her mother. And if there's anyone the little girl depends on after her mother, it is her father. It would therefore be foolhardy for both Aishwarya and Abhishek to be shooting for the same film," Subhash K Jha had earlier quoted a source close to the Bachchan family as saying.
Moreover, Abhishek had denied reports of acting with his wife in "Happy Anniversary", saying that nothing has been confirmed.