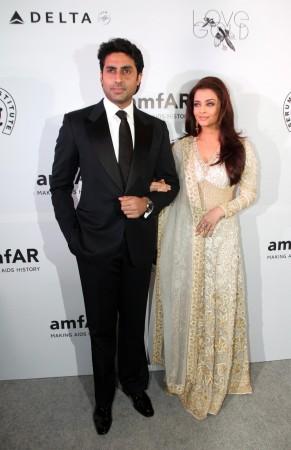 Looks like Abhishek Bachchan is set to answer some candid and personal questions on the upcoming episode of "Koffee with Karan" season 4.
Show host Karan Johar threw a volley of interesting questions at the "Bol Bachchan" star, and it seems the actor came out answering most of them with a straight face.
After continually playing second fiddle to his wife and former Miss World Aishwarya in the media throughout the years, Abhishek was asked on his sense of security of being married to "the most beautiful woman on the face of earth".
Like a true gentleman, Abhishek replied there was no anxiety in their relationship because their union was not superficial and, like any other couple, they are also a normal jodi. However, the doting husband could not stop praising his gorgeous wife.
"I believe she is and to me she is the most beautiful thing on earth. I see myself in the mirror every day and it is a horrific sight. So I am not competing, I can't. The reason why we got together wasn't cosmetic," Abhishek was quoted by PTI.
The actor then made quite a statement by claiming that Aishwarya did not marry him for his famous family name. "She is one of the most down-to-earth, normal people you will ever meet. She hasn't married me because I am a film star or I am a Bachchan and I haven't married her because she is the most beautiful woman on earth or one of the biggest stars on earth, so that never comes in the equation," the 38-year-old added.
Abhishek and Aishwarya are seen as the numero uno Bollywood couple. Right from their marriage, to their daughter Aaradhya's birth, and to Aishwarya's comeback, the pair has always been in constant limelight.
The couple has appeared in together in several films like "Guru" and "Dhai Akshar Prem Ke", "Sarkar Raj" and "Raavan."
Abhishek's full interview will be available this Sunday on "Koffee with Karan", where he appears with "Happy New Year" director Farah Khan.