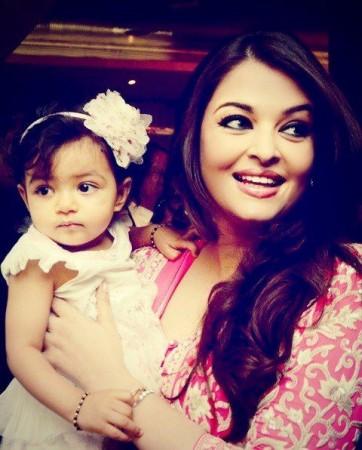 Aaradhya Bachchan, who is the most talked about celebrity kid, is growing up quite fast for her age. The 14-month-old daughter of Abhishek and Aishwarya Rai Bachchan, can now recite the entire Gayatri Mantra besides operating an iPad on her own.
According to DNA, Aishwarya was heard talking to a group of people about her little daughter Aaradhya at a recent party in Mumbai.
The actress recently attended a party in Mumbai that was organised by Anil and Tina Ambani in honour of Oscar winning director Steven Spielberg. During the party when Ash was asked about Aaradhya she said that the toddler can now repeat numbers from 1-10 and alphabets from A to Z.
"At the party thrown in honour of Steven Spielberg last week Aishwarya was asked about her baby and when one guest asked her if she was talking already, now that she was one, Ash told her proudly how her little girl could recite the Gayatri Mantri fluently," DNA quoted a source as saying.
Earlier in January, Amitabh Bachchan, who posts regular updates about his life, had announced on social networking site Twitter that his granddaughter Aaradhya can operate an iPad on her own.
The 14-month-old baby chooses to tune into her favorite rhymes and TV shows on the iPad all by herself.
"Aaradhya turns on the iPad to her favorite nursery rhythms programme all by herself... picks up remotes wherever she can see one and points it to the TV in a pretense to put it on," Amitabh wrote on his blog.
"What a fantastic generation of our world and what a pity we shall never be there to see it evolve into a world that shall be governed and controlled by little kids and their deep accumen at the cyber."