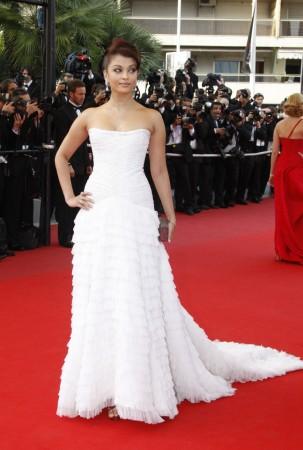 Whether Aishwarya Rai Bachchan will take her Beti B to Cannes Film Festival this year or not, is the question; however, a source close to the Bachchan family told Bollywood Hungama that they are not keen on bringing the little one in public so soon.
"At the moment Araadhya is enjoying her privacy. There's plenty of time for the public glare," the source said of the family's decision.
Well, a family friend told Bollywood Hungama that the decision is solely Aishwarya's to decide whether the baby will accompany her to Cannes or not.
"Aishwarya is at the moment focusing only on the question of whether the baby accompanies her or not," an undisclosed source told the entertainment website.
In fact, the diva has not yet even decided on her apparels for the red carpet.
"Those are questions that don't even crop up in her head. Neither does the issue of weight-gain worry her," a friend said. "To Aishwarya her daughter's wellbeing is all that matters. The rest - beauty, career, success, stardom - are all at the moment, hazy things best left in the background."
"She has given absolutely no thoughts to what she'll wear at Cannes and how she'd conduct herself there."
Apparently, for her "no role at the moment matters more than the real-life role of the mother" hence she is in no hurry to make a hasty comeback in Bollywood.
"She has decided to not sign any film for at least one more year," the source was cited as saying by the website.
The friend asserted that her daughter is her prime priority at the moment and she is devoting her entire time in relishing joyful moments with her bundle of joy.
The source, unidentified by the website, also said that Aish had earlier planned to cancel her Cannes schedule this year, but she decided to keep her professional commitments and go to the festival.
"Given a chance Aishwarya would have gladly foregone Cannes this year," the source said. "In the Bachchan parivar professional commitments are sacrosanct. And Aishwarya is therefore going to Cannes as per schedule."
"Long-standing commitments other than film assignments, however, need to be fulfilled. And Aishwarya finds herself being pulled away from her motherly duties by professional commitments."