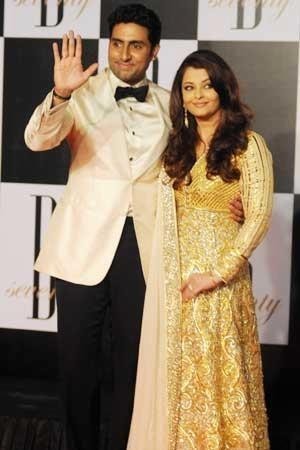 Bollywood actress and former Miss World Aishwarya Rai Bachchan will soon be seen dancing to some patriotic songs for a cause. She will perform along with hubby Abhishek Bachchan and other Bollywood actors at an event on Independence Day to help Uttarakhand flood victims.
"The actress will apparently be performing to a medley of patriotic songs for the event. Abhishek Bachchan has also given his nod for the show," Mid-Day quoted a source as saying.
The event, which is a seven-hour on-air marathon, is initiated by a television channel. The money generated from this event will be donated to NGOs that work for rehabilitation of flood victims.
"The ad revenue generated during the telecast will be channelled to not-for-profit bodies that are working to restore normalcy in the hilly region. The stars and all those associated with the on-ground event for the performances have done it gratis to espouse the Uttarakhand cause," the source said.
On Tuesday, Bollywood diva Madhuri Dixit-Nene reportedly shot for the promo of the event which is called "Saath Hai Hum Uttarakhand". Bollywood megastar Amitabh Bachchan also shot for the promo on Wednesday.
"Worked on the Uttarakhand Telethon song and poem by Prasoon Joshi .. and SEL music - thats ShankarEhsanLoy and not the Benz model," Big B wrote on his Twitter handle.
Other celebrities, who are participating for the noble cause, includes Abhay Deol, Neha Dhupia, Bipasha Basu, Ajay Devgn, Kajol, Anil Kapoor and John Abraham.