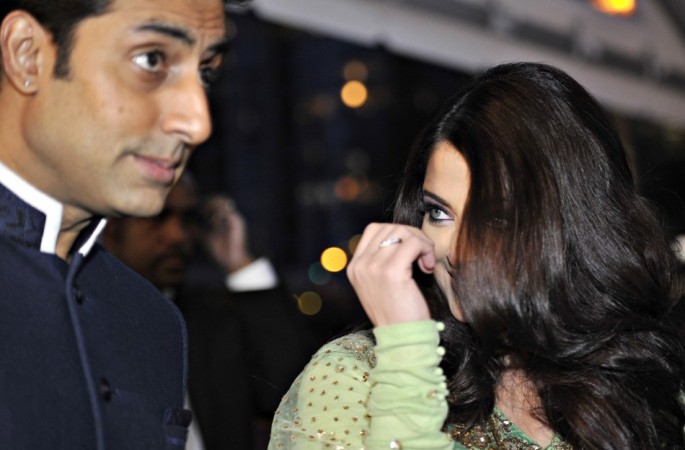 Aishwarya Rai Bachchan, according to reports, will be giving a miss for the Dubai premiere of husband Abhishek Bachchan's upcoming film "Happy New Year".
Slated for a 23 October release, the gorgeous Bachchan bahu has apparently decided to skip the glitzy event in order to represent her significant other during the Diwali celebrations to be held at Jalsa, stated a Bollywood Life report.
"The Dubai premiere clashes with Diwali on October 23. Everybody knows Diwali is celebrated with great gusto in the Bachchan household every year. It's an open-house at the Bachchans' residence Jalsa for Diwali each year with the entire entertainment industry dropping in through the evening and night," said the source.
"Abhishek cannot be at home for Diwali because he must attend the Dubai premiere of Happy New Year. Aishwarya has decided to opt out of this big moment from her husband's life so that one of the couple could represent both at the Diwali celebration at Jalsa," added the source
Interestingly, ahead of "HNY" cast finalisation, the gorgeous actress was considered by director Farah Khan. But, rumours were rife that she turned the offer down since she was being paired opposite Shah Rukh Khan and not her husband Abhishek. She reportedly felt the fear of being rejected by the audience if she were to be paired opposite another star in a film, which also has her husband.
Aishwarya, who will be next seen in Sanjay Gupta's "Jazbaa" opposite Irrfan Khan, is all set to make her comeback with the thriller. To go on floors this December, the premiere of the film will be screened at Cannes Film Festival 2015.
"It makes sense to take up the Aishwarya-Irrfan film first, considering the kind of buzz it has created. Also, if we have stars like them, it would be an absolute fit at Cannes. It won't be an intelligent move if we don't use such a platform," Gupta told Hindustan Times.