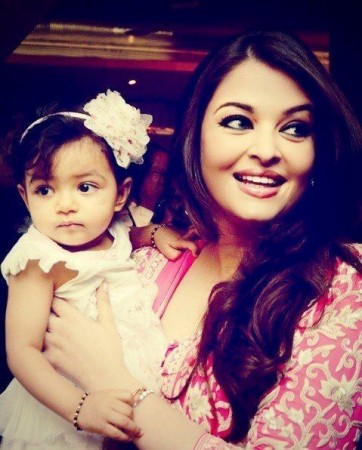 Bollywood diva and former Miss World Aishwarya Rai Bachchan is in no hurry to make her comeback on the big screen.
Recently, rumours were doing rounds that the actress was approached by Karan Johar for his next venture "Shuddhi" for a role opposite Hrithik Roshan. This was followed by reports that filmmaker Sanjay Leela Bhasali has signed her for his project.
When asked about the rumours, the 39-year-old actress said, "It is too early to talk about projects now. Nothing has been finalised yet," The Times of India reported.
It was also said that Aishwarya was offered to play the female lead in "Happy New Year" opposite Shah Rukh Khan, for which the film's director Farah Khan has also signed in Abhishek Bachchan and Boman Irani. Later, reports surfaced that Aishwarya backed off from the project as she was not cast opposite her hubby Abhishek in the film.
Aishwarya stayed away from the silver screen since she was confirmed pregnant. After the birth of her daughter Aaradhya in 2011, she made several public appearance. She even gave out sizzling performances at the Ponds Femina Miss India Contest and the maiden Times Of India Film Awards (TOIFA) 2013.
When asked about her comeback to the industry, the actress said, "I don't believe in comebacks. When was I away from the industry that I have to make a comeback now? I was always involved in it, so there is no point, in terming it as a 'comeback'. Yes, I was enjoying a slight break with my daughter and I am thoroughly loved it."
Aishwarya, who is the brand ambassador of Kalyan Jewellers, also spoke at length about her interest in jewellery and how much she cherishes the gift that was presented to her by her mother-in-law Jaya Bachchan. "I enjoy jewellery a lot. But the most treasured are the very simple pieces, which include my wedding ring, a Manglorean style bangle and my mother-in-law's loha, which I cherish," she said.