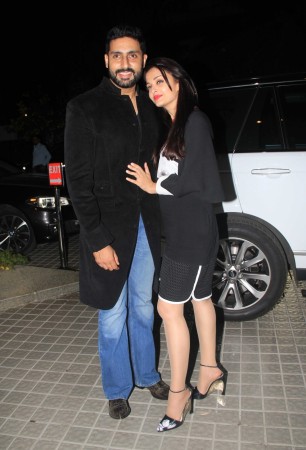 While people across the country celebrated Holi, Bollywood celebs too enjoyed the day with their families.
Recently, some pictures of the Bachchan family surfaced on the internet where the entire family is seen on a single frame.
Bollywood megastar Amitabh Bachchan and Jaya Bachchan played host as the entire family gathered to celebrate the festival of colors.
The Bachchans later posed for some clicks, which soon went viral on the internet. While Senior Bachchan and wife are missing from the pictures, beauty queen Aishwarya Rai Bachchan is seen holding her daughter Aaradhya while posing with Abhishek Bachchan, Shweta Nanda Bachchan and newlyweds Kunal Kapoor and Naina Bachchan.
Going by the pictures, it appears like the Bachchan family had great fun celebrating Holi together.
On the work front, Aishwarya is busy shooting for Sanjay Gupta's "Jazbaa" while Abhishek is busy with Umesh Shukla's "All is Well".
"Jazbaa" marks the Former Miss World's return to the silver screen after motherhood. And from the very first day of Aishwarya's shoot, shutterbugs have been trying hard to capture her look, resulting in some pictures getting leaked online.
The film will have the Bachchan Bahu play the lead role of a lawyer and perform some high octane never-seen-before action sequences.
Cute pics of Abhi, Ash and Aaradhya with Big B, JayaBachchan and others during holipic.twitter.com/lC1lJCrjqS
— Bewitching Bachchans (@TasnimaKTastic) March 10, 2015