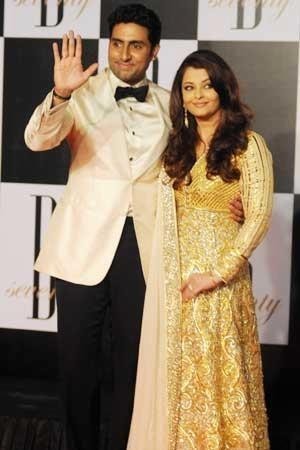 If latest reports are to be believed, then Aishwarya Rai Bachchan will make her film comeback with husband Abhishek.
Reports of Aishwarya returning to the silverscreen are doing the rounds ever since she regained her pre-pregnancy figure. The actress took break from films after the birth of her daughter Aaradhya in 2011.
Earlier, it was rumoured that Aishwarya might make a comeback opposite Hrithik Roshan. But latest reports suggest that she might be paired with Abhishek in the remake of Shekhar Kapoor's classic film "Masoom" which was released in 1983.
Playback singer Himesh Reshammiya is said to have negotiated for the remake rights of "Masoom" which starred Naseeruddin Shah and Shabana Azmi in the lead roles.
Reshammiya wants one of the hottest couples of Bollywood - Aishwarya and Abhishek, to play the lead roles in the film. Abhi-Aish were last seen in 2010 film "Raavan" which was directed by Mani Ratnam.
"Abhishek and Aishwarya have agreed in principle to be in Himesh's remake. Now the details are being worked out," DNA quoted a reliable source as saying.
The film will be directed by Bedabrata Pain whose last film "Chittagong" received critical acclaim.
"It is still too early to comment on it. But yes, I am planning to direct a Hindi film, which is a remake of Masoom. Indian society has changed drastically since Masoom was made and it is my challenge to portray an eternal love story in a new social environment," Pain told The Times of India.