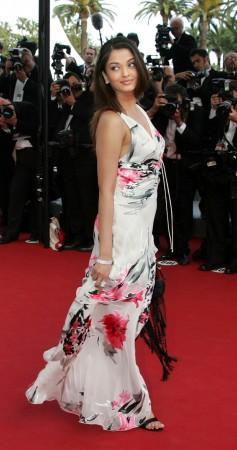 Bollywood actress and former Miss World Aishwarya Rai Bachchan will arrive at the 66th Cannes Film Festival on Friday with daughter Aaradhya.
Confirming the reports of their arrival Amitabh Bachchan tweeted, "Media tomorrow, and then wait for the bahurani to arrive with bitiya, meet them and get on plane back to London and then home!!"
Aishwarya was seen leaving for the prestigious film festival with her 17-month-old daughter and mother Brinda Rai on Thursday.
Aishwarya, who will be seen walking the red carpet at Cannes for the 12th consecutive time, will be the guest of honour on May 19 to celebrate 100 years of Indian cinema.
The actress will be also be seen on the red carpet on May 20. Although no confirmation has been made from the Bachchans rumours are rife that Aishwarya might be accompanied by Aaradhya this time.
Aishwarya and taken her daughter with her to Cannes when she was only five months old. The toddler did not attend the event but was seen at the airport. It was there when shutterbugs managed to get a glimpse of Aaradhya despite her mother's efforts to restrain them from taking photos.
This is Aishwarya's second red carpet appearance post Aaradhya's birth. Last year, Aishwarya was criticised by many for not shedding her weight and her red carpet walk was a matter of great discussion.
Although no details have been given out, it is rumoured that Aishwarya might walk the red carpet in traditional attire this time.
The actress made her maiden red carpet walk at the Cannes Film Festival in 2002 for Sanjay Leela Bhansali's "Devdas".