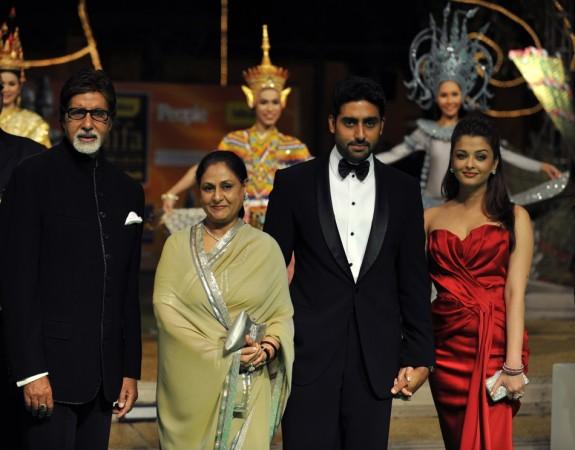 Bachchan fans have one more reason to cheer.
The Bachchan family comprising Amitabh Bachchan, Jaya Bachchan, Shweta Nanda Bachchan, Abhishek Bachchan and Aishwarya Rai Bachchan is set to scorch the ramp soon.
For the first time, the entire family will walk the ramp for a fashion show to be hosted by Shabana Azmi.
Every year, Shabana hosts the fashion show to support weavers of Mijwan, her ancestral village in Uttar Pradesh.
While the event has always been star-studded one, with many Bollywood celebrities gracing the event, this year, Shabana has managed to rope in not just the entire Bachchan family but other B-town celeb families to walk the ramp.
Shatrughan Sinha and Sonakshi Sinha, Alia Bhatt with mother Soni Razdan, Anil Kapoor and Sonam Kapoor, Javed Akhtar and Farhan Akhtar will walk the ramp for the first time together to support Shabana's cause.
When contacted, Shabana confirmed the news saying: "I believe the film industry is like a large family. We come together in joy and sorrow. I am overwhelmed that Shatru (Shatrughan Sinha) is walking the ramp with Sonakshi (Sinha) for the very first time. Anil (Kapoor) and Sonam (Kapoor), Javed (Akhtar) Saab and Farhan (Akhtar) have never walked together before neither have the Bachchans. Shankar and Sidharth Mahadevan are singing live. What would be more befitting for our theme this year Mijwan- The Legacy! A legacy Kaifi Saab has passed to me and I to my goddaughter Namrata Goyal."
"Manish Malhotra's creations this time are going to be different. We have 5 people coming from Mijwan. I cannot even begin to tell you how empowering is it for them to watch their craft being showcased by the film industry's leading stars. I am deeply deeply grateful to all my colleagues." the actress added.