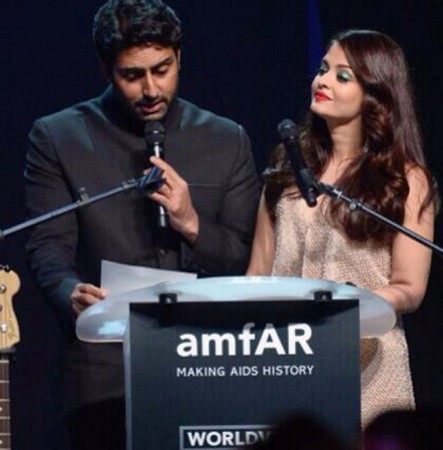 Abhishek and Aishwarya Rai Bachchan are set to ring in their 8th wedding anniversary on 20 April, Monday, but not in style. With packed schedule and long shoots, the couple has reportedly decided on having a quiet and private dinner with friends and family giving full-blown bash a miss this year.
"Both have a very packed schedule. Aishwarya, who has been shooting non-stop for her film, will be working on the eve of her anniversary. She has a full night shoot on the sets of her film, Jazbaa, today. Abhishek, who has been shooting abroad, will also come back tonight. So the couple has planned a quiet dinner with family and some close friends tomorrow," Bollywood Life quoted a source as saying.
This year has been extremely busy for Aishwarya as she began shooting for Sanjay Gupta's "Jazbaa", which is being tagged as the former beauty queen's big comeback film. However, the term 'comeback' doesn't fit in as she was always in the news and it was only a matter time until she bounced back to charm movie goers.
"Yes, there was a maternity leave, just like any other working woman—in fact, I was working right up to my sixth month, with my various product endorsements and other stuff. There were no movies, obviously," she told Vogue India last month.
Talking to IANS, the gorgeous actress said she has given a few more projects a go-ahead but details will be revealed by the makers shortly.
Meanwhile, on-set photos of "Jazbaa" have made their way to the internet and her fans cannot stop raving about her fierce new look in the upcoming thriller. Also, word has it that director Gupta will reported release the film's trailer at the Cannes Film Festival 2015, which will be attended by Aish and Sonam Kapoor.