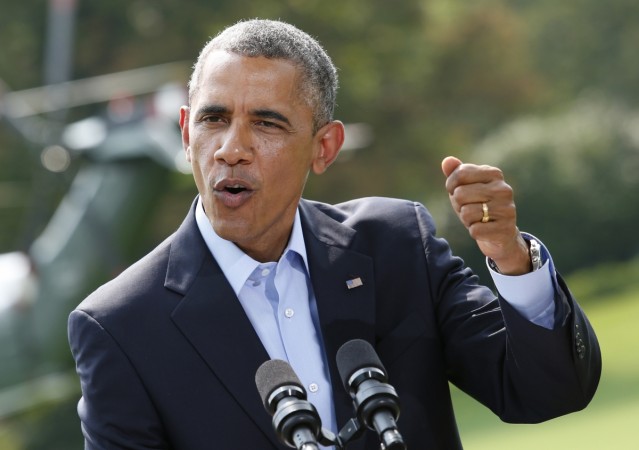 The Islamic State did not succeed in slowing down the United States in its Iraq mission with the gruesome beheading of a US journalist, as the US military launched 14 airstrikes at militant positions in Iraq on Wednesday, and President Barack Obama vowed to cure the IS "cancer".
The IS militants had put up a video online of the beheading of US photojournalist James Foley and threatened to kill another American journalist Steven Sotloff if the airstrikes continued.
There was a global wave of anger against the brutal incident , with world leaders calling for international action to eliminate the jihadist outfit.
"The whole world is appalled by the brutal murder of James Foley," Obama said on Wednesday, as he denounced the "cowardly acts of violence".
He said the US would not back down in its mission in Iraq. Additionally, the US could also send 300 more military personnel to Iraq, it was reported on Wednesday.
The United States of America will continue to do what we must do to protect our people. When people harm Americans, anywhere, we do what's necessary to see that justice is done," Obama said in his statement.
It came to light on Wednesday that the United States had attempted to rescue Foley and others held hostage in Syria earlier this year.
According to a statement released by the Pentagon, the operation failed as the captives had been shifted to another location. "The operation involved air and ground components and was focused on a particular captor network within ISIL. Unfortunately, the mission was not successful because the hostages were not present at the targeted location," the statement read, reported Reuters.
The rescue mission was authorized by Obama "earlier this summer", according to his counterterrorism aide Lisa Monaco, who said that "The President authorized action at this time because it was the national security team's assessment that these hostages were in danger with each passing day in ISIL custody".
However, at the time of the raid, the US commandos found only the militants at the location and after an exchange of fire, left several of them dead.
The Islamic State were earlier known by the acronyms ISIS or ISIL, which stood for Islamic State of Iraq and Syria/Levant.
Obama and other world leaders such as British Prime Minister David Cameron and French President Francois Hollande have called for a global fight to end the militants.
"From governments and peoples across the Middle East, there has to be a common effort to extract this cancer so that it does not spread," Obama said in his emotional address in which he called Foley "a man who lived his word, who courageously told the stories of his fellow human beings, who was liked and loved by friends and family".
He said that he had spoken to the journalist's family.
Obama's strong stance against the IS may put the life of Sotloff in peril, who may well face a similar fate as Foley.