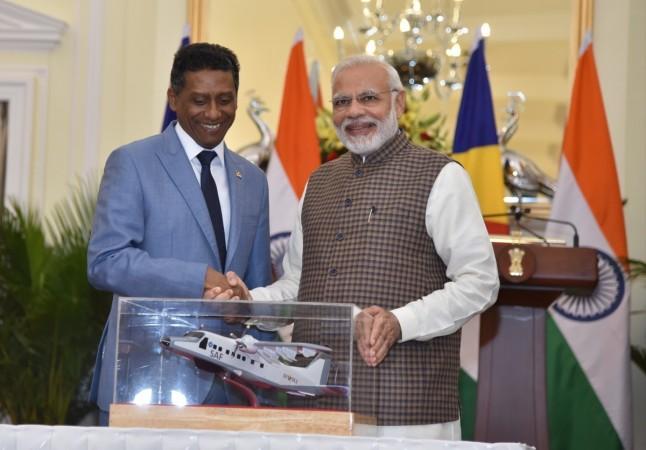 Seychelles President Danny Faure on Tuesday said that the second Dornier aircraft gifted by India would help bolster the coastal surveillance capacity of his Indian Ocean island nation.
External Affairs Minister Sushma Swaraj, in a ceremony at the Air Force Station here, gifted a second Dornier aircraft to Seychelles to help it enhance maritime reconnaissance and maintain security in that part of the Indian Ocean region.
"The Dornier 228 has come at the right time and would be flown on the forthcoming 42nd Independence Day of Seychelles on June 29, signifying the strong relations between the two countries," said Faure.
Describing the event as yet another milestone in furthering bilateral defence cooperation between India and Seychelles, Sushma Swaraj said: "The handing over of the Dornier aircraft reflects the firm commitment and continued engagement of the Government of India in further developing, consolidating and expanding the comprehensive multifaceted cooperation between India and Seychelles".
Manufactured by Hindustan Aeronautics Limited (HAL), Donier 228 is designed for multipurpose utility like EEZ (Exclusive Economic Zone) monitoring, maritime surveillance, pollution monitoring and control, search and rescue and commuter services.
HAL Chairman and Managing Director T Suvarna Raju hailed the event as a "proud moment" for the company as the aircraft has been delivered ahead of schedule and accepted by the Seychelles Air Force.
"We have provided hands-on training to the pilots and technical staff from Seychelles. We are committed to extending full-fledged support to the teams involved with its maintenance and operations of the aircraft", he said.
The Dornier 228 is equipped with a combination of 360-degree surveillance radar, forward-looking infrared system, satellite communication, traffic collision and avoidance system, enhanced ground proximity warning system and host of other customer specified sensors.
The first aircraft was handed over to Seychelles in January 2013.
During his visit to Seychelles in March 2015, Prime Minister Narendra Modi announced the gifting of a second Dornier aircraft to enhance the surveillance capability of the Indian Ocean archipelago nation in tackling maritime threats.