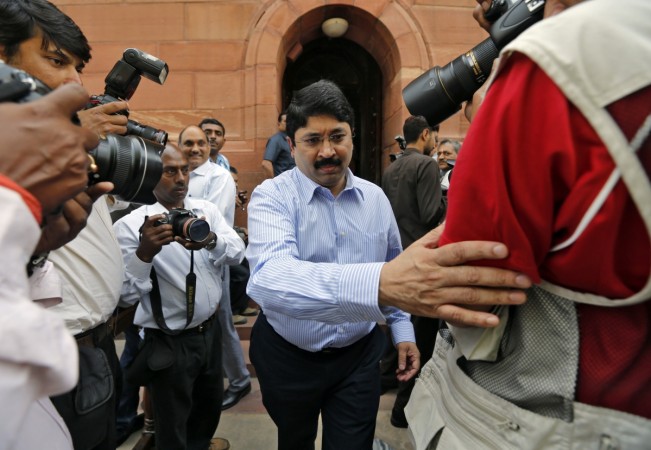 Dayanidhi Maran, former Minister of Communications and Information Technology in the Congress-led UPA government, and his brother Kalanithi Maran, suffered a setback on Saturday when a Delhi special court dismissed their petition challenging its jurisdiction to probe the Aircel-Maxis deal case. The next hearing on Sept. 21 will be even more crucial for them when their bail pleas — filed this July — come up for hearing.
The brothers and other accused are facing charges of money-laundering in connection with Aircel-Maxis deal.
Special Judge OP Saini did not agree with the petitioners' contention filed in March 2015 that the Aircel-Maxis deal was a private matter and could not be clubbed with the alleged 2G telecom spectrum scam.
On Sept. 6, the court had deferred its order to Sept. 17. Besides the brothers, the other co-petitioners, Kalanithi's wife Kaveri and four others, had said in separate petitions that the deal was a private matter. The cases against the petitioners were filed by the Enforcement Directorate (ED) and the Central Bureau of Investigation (CBI).
"There is no manner of doubt that by the standard of subject matter and periodicity of alleged crime, the case fairly/squarely falls within the description/ designation of the 2G scam," the special court said, reports ANI.
"There is no doubt that all these applications are devoid of even an iota of merit and are accordingly dismissed," it added.
In July, former Union Finance Minister P Chidambaram's son Karti was summoned by a government agency in connection with alleged money laundering in the Aircel-Maxis deal.
Chennai-based telecom service provider Aircel was acquired by Malaysian telecom network Maxis Communication Berhard (Maxis) in 2006 via a 74 per cent stake.
The Maran brothers are facing money-laundering charges in connection with the Aircel-Maxis deal, with the ED accusing firms controlled by Kalanithi Maran of receiving Rs 742 crore from overseas firms as "proceeds of crime."