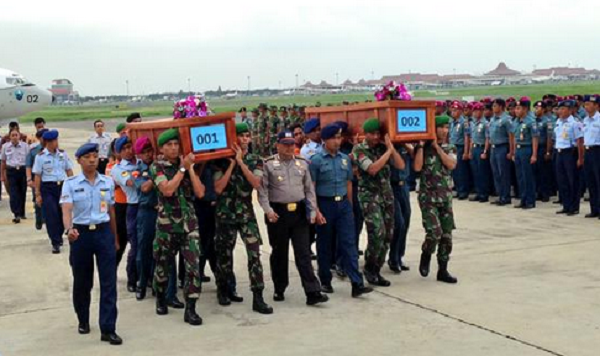 Two big parts of the crashed AirAsia plane have been found in the Java sea, Indonesian officials said on Saturday, while 30 bodies have been recovered so far.
Five of the bodies were found strapped to their seats, according to Indonesian Navy official Col. Yayan Sofiyan.
The two objects were found at a depth of 30 metres and were yet to be recovered.
"We are lowering an ROV (remotely operated underwater vehicle) underwater to get an actual picture of the objects detected on the sea floor. All are at the depth of 30 metres," Search and rescue agency (BASARNAS) chief Bambang Soelistyo said.
"With the discovery of an oil spill and two big parts of the aircraft, I can assure you these are the parts of the AirAsia plane we have been looking for," Soelistyo told reporters in the capital Jakarta, according to Channel News Asia.
A part of the plane that seemed like a window panel was recovered on Friday, while several items belonging to the passengers on the ill-fated flight were also found.
A team of specialists from France began a search for the plane's black box on Friday, which can reveal what transpired in the cockpit in the final moments before the plane crashed on Sunday with 162 people on board.