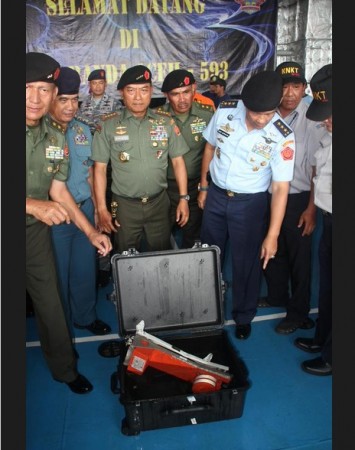 With the recovery of one of the black boxes of the ill-fated AirAsia QZ8501 flight, investigators have moved closer to determining the actual cause behind the plane's crash into the Java Sea on 28 December, with 162 people on board.
The flight data recorder was retrieved early on Monday while the cockpit voice recorder has been located and is yet to be brought to the surface.
The data in the flight data recorder will be read in Jakarta by Monday night or by Tuesday, the chief of Indonesia's National Transportation Safety Committee said, according to Channel News Asia.
The data recorder, to be sent to Jakarta on an Indonesian air force plane, is expected to hold crucial information about the last operations by the pilots, the condition of the engine, the last altitude and whether the plane stalled before coming down.
The black box is said to be in a fairly good condition, which could facilitate analysis. The initial results from the analysis of the flight data recorder could be out in two days, Indonesia military chief General Moeldoko reportedly said.
Bad weather is till now believed to have been the main culprit in the crash and initial reports suggested icing in the engine led to the downing of the plane.
The cockpit voice recorder is still said to be stuck beneath the wreckage of the plane, and it can hold crucial last-minute conversations between the pilots before the plane crashed.
France's air safety agency BEA and aircraft manufacturer Airbus are also slated to join the analysis.
BREAKING: First close look at #QZ8501 black box recorder - retrieved at crash site today now heading to Jakarta pic.twitter.com/HNRMDtGjgP

— Jackson Board (@JackBoard) January 12, 2015
TNI divers with Basarnas finally lift #AirAsia8501 black box from the bottom of the sea. Congratulations for all them pic.twitter.com/NZp9dQVoMd

— Moeldoko (@GeneralMoeldoko) January 12, 2015